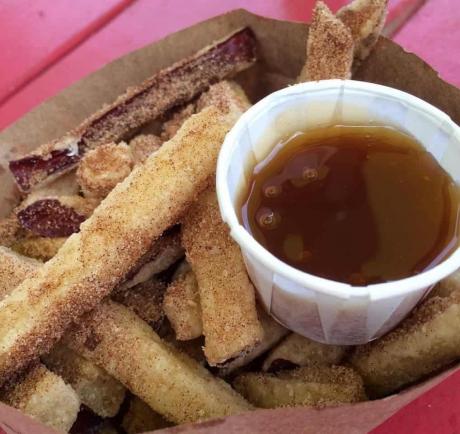 We're barely into September, and we're already being inundated by pumpkin everything. We get it - it's fall, and everyone is looking for comfort food to usher in the season, but there are so many more options out there other than pumpkin. Here are nine fall-inspired recipes for those who are all pumpkined out:
Chicken Pot Pie Soup
Chicken Pot Pie is a classic recipe, and the only thing that could make it better is to make it a warm, homey soup for fall. Get the recipe here.
Spiced Pear Bread
Next to everyone else's pumpkin bread or zucchini bread, your spiced pear bread will stand out. Recipe here.
One Pan Autumn Chicken Dinner
What's easier than a meal you can make in one pan? Not much. This recipe will get you feeling the fall vibes with sweet potatoes, apples and seasoned chicken.
Slow Cooker Beef Tips and Rice
Slow cookers are great to use in the fall when the temperatures begin to drop. This hearty beef and rice dish will help keep you warm. Roasted veggies would go great with this recipe.
Pie Crust Chips and Cinnamon Dip
It's chips and dip made sweet. You can't go wrong with bite-sized pie crust. Make this with either a premade pie crust or make homemade crust with your favorite recipe.
One Pot Chili Mac and Cheese
Chili and mac n' cheese in one dish?! So crazy, I think it might just work. The combo of the warm chili spice and the creaminess of mac n' cheese is a match made in heaven. Get the recipe here.
Apple Fries with Caramel Cream Dip
Apples are another seasonal staple in the fall. Couple that with the myriad of deep-fried eats you find at state and county fairs in the fall, and you've got these apple fries.
Slow Cooker Cinnamon Sugar Butternut Squash
I've never tried butternut squash, but this is reminiscent of some of my favorite sweet potato recipes. Plus, brown sugar and fall spices like cinnamon and nutmeg can only make food better, right? Recipe here.
Slow Cooker Cranberry Apple Cider
Fall beverages are just as important as the food. Classic choices include hot chocolate, apple cider, and anything with caramel. This cranberry apple cider is a delicious twist on a classic.
So, if you're still riding the pumpkin wave, keep it up. But if you're ready for some other fall goodness, give these recipes a try.