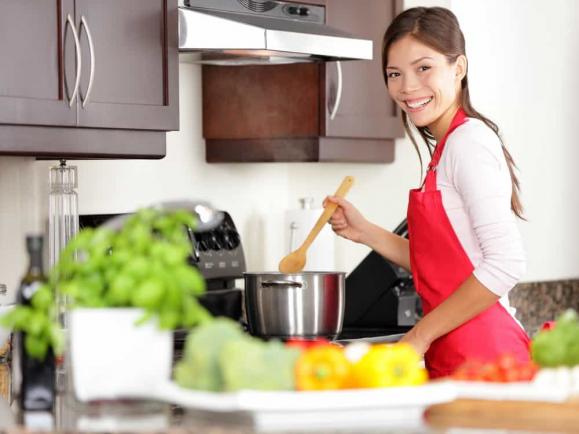 You are a busy parent.
After a day of work, chores, volunteering, driving to and from school, running errands, music lessons, play rehearsals, football practices and PTA meetings, you don't necessarily want to come home and cook dinner. You could run through the drive-through (again) or you could turn to your freezer for help.
Freezer cooking simply means preparing meals in advance and freezing them until you are ready to serve them. It is a great way to have healthy, homemade meals available for your family, even on those busy days when you don't have time to cook.
It is easy to get started. First, you need to have proper storage supplies on hand.
Freezer bags
To prevent freezer burn, make sure that you use freezer bags instead of regular storage bags. Freezer bags are great for storing many items like vegetables and side dishes. They are also great for liquids like soup. You simply freeze them flat, and then they can stack upright like CDs.
Sturdy plastic containers
These are great for individual sizes, because they can go from the freezer to the microwave. They are also dishwasher safe.
Aluminum pans
These are ideal for family-sized, casserole-type dishes. Because they are disposable, they are a great option if you plan on giving a meal away. They also save on clean-up.
Aluminum foil
Aluminum foil is used for covering pans or wrapping an odd-shaped item. It can be reused or recycled after use.
Once you have your supplies on hand, you can get cooking!
Favorite Freezer Foods says that batch cooking is the easiest way to get stocked up on make ahead freezer meals. Batch cooking is easy to plan for, inexpensive to start and doesn't require too much storage space. You can get started in three easy steps.
Choose a recipe that your family enjoys.

Double, triple or quadruple the recipe.

Cook one for dinner, then freeze the rest.
Favorite Freezer Foods recommends these tips for success:
Always label your meals with the date, content and cooking instructions.

Meat, rice and beans freeze very well.

Pasta and vegetables will become soft after freezing. Only cook them ¾ of the way through to account for softening.

Avoid vegetables with high water content like lettuce, radishes and cucumbers. They don't freeze well.

Crumbly toppings can become soggy. If your recipe calls for a bread crumb topping, add it during the last 45 minutes of cooking.

If you're using potatoes, cook them first or they will turn black when frozen.

Cornstarch loses its thickening ability. Use flour instead in your cream sauces.

Cool foods before freezing.

Thaw foods safely before cooking.
Once you get the hang of batch cooking, you may want to try something a little more ambitious like once a week or once a month cooking. You can also get together with a few friends for meal swaps where you each cook batches of favorite meals and then swap them with each other to save time and effort while adding variety.
For free recipe ideas, you can visit Mom's Free Recipes or Favorite Freezer Foods. For even more convenience, Who Needs a Cape has recipes for crockpot freezer meals.
You deserve a break today. With a little planning ahead, you'll be able to get it.