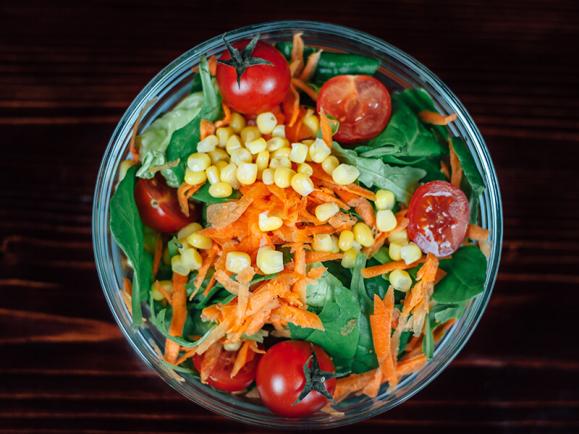 Want to start taking your health a little bit more seriously? This means paying attention to the nutrients you get each day, most of which can be found in a plethora of fruits and veggies. However, sometimes eating the recommended amount of both each day can feel a bit overwhelming. Increase your intake of fruits and vegetables at every meal with these quick and simple ideas.
Don't break the bank.
There is a misconception that eating healthy is quiet expensive. With a little planning, it's not at all and can be a very cost-effective way to lower your grocery bill. Buy vegetables that are in season for maximum flavor at a lower cost. Check your local supermarket specials for the best in-season buys, or visit your local farmers market to see what is available. Plan out your meals for the week so you know exactly how much to buy without letting much go to waste. Give yourself a free hour on a Sunday morning to get out the chopper and prepare your veggies for the week. Sautee some olive oil with peppers, mushrooms, onions and zucchini so the mix is ready to add to any meal like omelets, salads, sandwiches, pasta and more. This will ensure you are getting the most bang for your buck.
Pack fruits and veggies in your lunchbox.
Are you and your kids getting nutrition while at work and school? Avoid the bags of greasy chips, bowls of ice cream, and bottles of sugary sodas. Those snacks are high in calories and low in nutrition. Dehydrated fruits such as raisins, dates, and dried cranberries keep nicely in plastic containers. Single-serving packs of applesauce or fruit cups that don't need refrigeration can also be kept at your desk. If your kids are bit picky, try out some of these options: freshly cut vegetables and dip, a parfait made with yogurt, berries, and nuts or granola, or frozen seedless grapes.
Eating a salad as a meal can give you several servings of fruits and vegetables. Start with some lettuce and add sliced tomatoes, apples, pears, berries, celery, cucumbers, sprouts, raw green beans, broccoli or cauliflower. With so many combinations, you can eat a different salad every day. When you make a sandwich, be sure to add lettuce and a couple of thick tomato slices. Take the rest of the tomato, slice it up and serve it on the side. Add extra vegetables to your soup and stew recipes, or even to canned soups.
Be mindful of eating out.
If you eat lunch at a restaurant, choose a side salad instead of french fries, and drink 100-percent fruit juice instead of soda. Look at ordering vegetarian sandwiches and wraps instead of fried meals. They're usually low in calories and can give you two or three servings of vegetables with just one sandwich. Plus, any good restaurant will have prepared the vegetables and fruits in the most appealing way. You can learn a thing or two about their cooking methods and combinations.
Hide the taste.
If you are still learning how to make veggies and fruits something you want to eat, you can start by hiding some of the flavors in dishes. For example, snack on a smoothie in the morning. Start with your favorite fruits and some low-fat or almond milk and then throw in a handful of greens for an added nutritional boost. If you're worried that you won't like the flavor of the spinach or carrots, add a banana or a small spoonful of peanut butter. You won't taste the veggies at all when it's covered by the fruit's sweet flavors. Additionally, even the pickiest of eaters won't typically notice if you hide a layer of spinach in lasagna or diced carrots in tomato sauce.
Make them more convenient at home.
You are more likely to eat fruits and vegetables if they are easily accessible. Apples, pears, bananas, oranges, and cherry tomatoes don't need refrigeration so you can keep them in plain view on your countertop or table. When snack time rolls around it will be easy to grab them and munch down, rather than head to the pantry for a bowl of chips. In addition, having a stockpile of frozen veggies and fruits makes it easier to want to cook them too. You can whip up vegetables in the microwave for a quick-and-easy dish to add to any meal.  You can choose single vegetables such as peas, carrots, green beans, or cauliflower, or you can try seasoned blends of vegetables. They're quick and easy to prepare in the microwave or on the stovetop, making dinner a breeze.
 Try something new.
When is the last time you tried cooking a vegetable a different way? Or the last time you tried a new fruit? Give your palette something special to try out. Rutabagas can be cooked and mashed alone or mixed with potatoes. Zucchini can be used as a pasta substitute, and cauliflower can be used as pizza crust. Brighten your plate with vegetables that are red, orange, or dark green. They are full of vitamins and minerals. Think outside the box and you'll be adding more nutrients in your diet with no time.
Wanting to add more fruits and veggies to your diet is a great start in being a healthier version of you. Even for the most health-conscious of eaters, it can sometimes be a challenge. Don't beat yourself up if you don't hit your goal every day, but instead celebrate what you are able to accomplish. With each week, you'll be eating more in no time.