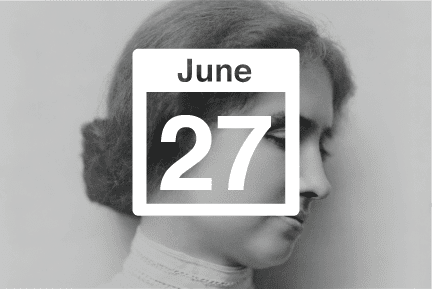 What is this day?
On this day in 1880, Helen Keller was born. And while she would later become an author, lecturer and the first deafblind person to get a B.A. degree, it was a long road to get there.
Helen became both deaf and blind when she was only two. As a child without much ability to communicate or interact with the world, she was wild. Some even believed she should be institutionalized. Helen's parents hired a teacher named Anne Sullivan to come stay with Helen - a decision that changed Helen's life, and, in turn, the world. After a lot of struggle, Sullivan finally taught Helen to spell. She unlocked the world of words and objects to Helen.
Helen went on to graduate college, and campaigned to raise awareness and support for the blind (among a lot of other great things). Today we celebrate her dedication to improve the lives of so many.
Daily Life Being Blind and Deaf
Activity
Take turns being blindfolded and putting in earplugs. Then choose one of these activities for each person to do:
Make a peanut butter and jelly sandwich
Pick out an outfit
Vacuum or sweep the floor
Wash the dishes
Pick up your bedroom
Famifi This:
Obviously not being able to hear or see for a few minutes hardly makes you an expert in knowing what it's like to live that way every day, but children can learn empathy through this activity. Consider asking them these questions:
How did you feel while you were trying to accomplish your task?
What do you think it would be like if you had to do this every day?
In what ways do you think you can be helpful to the people around you?
You could also consider watching this cartoon about Helen Keller together as a family.