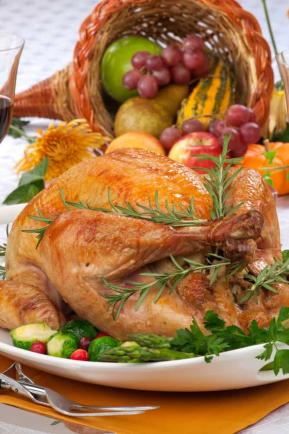 With Thanksgiving around the corner, it's time to think about a successful, simple celebration of thankfulness. Chaos and unplanned disasters are not fun when families get together. Positive memories of friendship and good food make for a fabulous holiday that will last a lifetime. Here are a few tips to help along the way:
1. Good planning
Planning activities for the day will be much more fun if you know what you are doing ahead of time. Maybe football is the voted activity for the day but if there are more than the normal amount of people in the house, they might not all want to watch. Have a backup plan for those who want to do something besides what everyone else is doing. Children enjoy crafts and coloring. Teens enjoy board games, playing sports and talking. Discuss family history, place video calls to long-distance family members or plan a mini-pumpkin hunt for children. Any of these activities might add to the pleasures of the day. Think about the age groups of your guests and how time will be spent and you will be prepared for most anything.
2. Fabulous food
Of course this might go without saying but if past Thanksgivings were disasters, planning a good menu ahead of time will make life much easier. Start early with what can be prepared ahead of time and enlist a few helpers to bring their favorite dish. It's always more fun to have a variety of food from others and the cooking and cleaning stress will be much lower. Remember to keep extra plates and silverware handy in case of surprise visitors. The food is important for this holiday so make sure there is something for everyone.
3. Employ a Buffer Guest
: From the very helpful website makinglifebetter the suggestion for a Buffer Guest is brilliant. With large holiday groups, not everyone gets along and sometimes contention and arguments develop into very unpleasant meals. To avoid this situation, find a family member - cousin, nephew or even a good friend that is invited for the sole purpose of keeping everyone happy. This could be a formal position in which the Buffer Guest would have assigned duties such as contributing to non-threatening conversations, or steering away from certain dangerous topics with a few jokes or antidotes when things start to get hot. The Buffer Guest can also keep helpful cooks out of the kitchen when necessary which alleviates the stress for everyone. Keeping a family friendly advocate around to help is a great way to insure no hurt feelings and happy memories.
4. Attitude is everything
When families get together, Debbie Downers are not wanted. Attitude really counts for most of how everyone feels during the festivities. So if your attitude is in the dumpster when you awaken in the morning, everyone else will feel awkward and uncomfortable which will put a black cloud over the whole day. It's Thanksgiving and a time to be thankful for all blessings. Whatever you choose to do, do it with a smile and that will make all the difference.
Thanksgiving shouldn't be tiresome or complicated. It's a time for family and friends to come together to have a great time. A few of these helpful hints will keep the day moving along and Thanksgiving will be a lasting, wonderful memory.