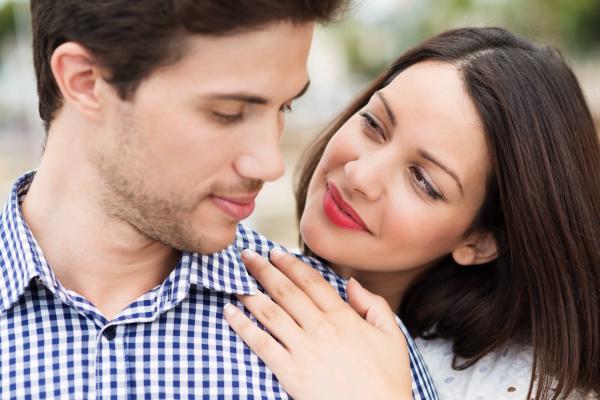 We've all heard the saying, "happy wife, happy life," but it goes the other way around as well. You love your husband to the moon and back - of course you want to make him happy! And you'll be glad to know that you don't have to make any grand gestures, because it's the simple and small things that make your sweetheart happy.
1. Say more than just "I love you"
The next time you are about to say those three words, make him feel extra happy by expanding your sentiment with one simple change. Instead of just saying, "I love you," say "I love you because... " This is a great way to show you love him rather than just telling him you love him.
2. Send him a text out of the blue
In the middle of the day, send him a love bomb text message when he least expects it. Be sweet and say something like, "I'm so lucky to have you in my life," or spice it up and say something like "I want to be in your arms."
3. Remember his favorites
Remembering your husband's favorite things can go a long way. Put on his favorite movie tonight or put on his favorite music while you both get ready for bed. Suggest going out for his favorite dessert or a night in, just watching his favorite show. There are so many ways to let him know you're thinking of him by remembering his favorite things.
4. Introduce him with a compliment
You probably normally say, "This is my husband" when it comes to introductions. Instead, put a smile on his face by adding a compliment to the normal introductions. You could say something like, "This is my wonderful husband," or even "my handsome husband."
5. Show affection after a long day
When you see him after a long day of being apart, show a little more affection than you normally do. Smooch it up, hug it out and tell him how much you missed him.
6. Give him a massage
I've never known anyone who'd say no to a nice foot rub or back massage. Not only is it a great way to serve your spouse, but physical touch (even as simple as a neck rub) is a great way to make your husband feel loved.
7. Plan a fun date night
Married couples can get comfortable with each other to the point where a real, planned-out date is a rare occurrence. So take some time to make date plans and take your hubby out for a fun night together. Your mister will appreciate the time and effort you put into a well-planned date.
8. Think before you speak
It's an unfortunate truth that the people we're closest to are also the people we insult the most. You can probably remember a time you spoke before thinking and consequently hurt your husband's feelings. If you want to make an effort to make him happy, simply be more cautious with your words.
9. Tell him 'thank you'
Spouses do so much for each other every day, but we often neglect to show our gratitude for their hard work. So tell him thank you for the big and small things he does every day.
10. Surprise him with tickets
Think about the music, plays, sports teams and movies your husband enjoys and buy him tickets an event or showing. You can make him extra happy by making the purchase secretly and surprising him with the tickets. If you both are watching your budget, make tickets for an extra 15 minutes of snuggling or a ticket for the chance to sleep in on a Sunday, redeemable whenever he chooses.
Make an effort to put a smile on your sweetheart's face every day and remind him why you love him so much. Maybe he'll even return the favor for you.