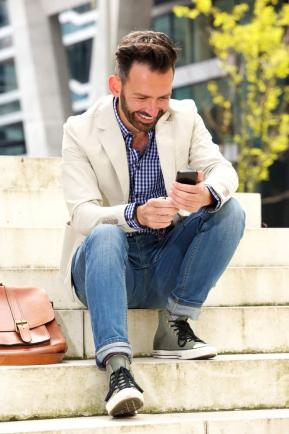 Your husband knows you love him, but he loves to be reminded. Send him these cute texts and he will be falling in love with you all over again:
Send him a photo of you and the kids to brighten his day.
Women know how to cope with hard days. Sometimes you just need a bunch of food and a good movie.
After a long work week, alone time with you is just what he needs!
Let him know he's on your mind.
There's nothing better than coming home to a home-cooked meal. Give your man a chance to come home and kick up his feet, even when you can't be there. Cooking his favorite scores you bonus points.
Offer to do a favor for your husband while you're already out. Even if he doesn't need anything, he will appreciate your thoughtfulness.
This sweet gesture will give him more time to relax during his lunch break instead of leaving the office or waiting in line.
This is a simple phrase with so much meaning. Remind your man that you love everything about him - inside and out.
Keep the sparks flying by adding mystery to your relationship. The surprise could be a big kiss and his favorite meal, a clean house or something a little more intimate.
Let your husband know you're looking forward to seeing him. This text can bring a smile to his face at the end of a long day.
Don't underestimate the power of a simple text or kind gesture. One text from the love of his life can get your husband through the afternoon slump or lift his spirits on a bad day.