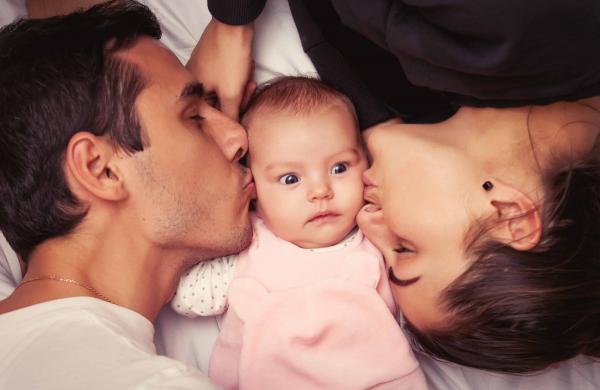 You've just had your first baby, and you could not be more excited. The love you feel for this child is something you've never felt before. You want to spend every waking moment relishing in your love for this baby you've brought into the world. This feeling is incredible and having a baby is one of the most amazing experiences you can have. While this is an exciting time, you may not notice that your marriage is falling apart.
When couples have a baby, they often spend so much time giving their new child attention that they forget to give each other attention. This is totally normal at first when you're figuring out how to be a parent, but one child turns into two and before you know it, your last child will leave the nest and you won't have a relationship with your spouse. You've given every ounce of attention and energy to your children, forgetting to nourish the most important relationship you have, which is with your spouse.
Here are 11 ways you can keep your marriage thriving while you're trying to navigate the path of parenthood:
1. Make date night a priority
Date night is so important, whether you go out to dinner or choose to stay home and have a movie night after the kids go to bed. Spending alone time together will remind you of your love for each other and the importance of your relationship. Try not to talk too much about the kids while you're on a date. Get to know each other and work on getting that spark back.
2. Don't stop flirting
Flirting comes in many different forms and is a sure way to make your relationship keep its spark. Send cute text messages to each other throughout the day, write notes to each other and hide them in unexpected places or have a "code word" you can use around your kids that means something special to the two of you.
3. Get ready for each other
Parenthood is messy. Your kid throws up on you, gets food in your hair and sometimes showering just isn't an option because you can't get your child to hold still for more than 30 seconds. You just know they'll color on something they're not supposed to if you leave them alone for even 5 minutes.
It won't happen every day, but your spouse will appreciate you taking the time to put a little makeup on or get ready for the day. Don't stop trying to impress each other.
4. Set aside 15 minutes every day
If you absolutely can't get away, set aside 15 minutes every day to just be alone with each other. Think of this as precious time when you and your spouse can spend time together without interruptions or distractions. As your children get older they will understand that you need to spend time with your spouse and this will become easier.
5. Go to bed together
Going to bed together is so important. This will give you alone time, talking time, intimate time and time to be the center of each other's world.
6. Hire a sitter
Hiring your first babysitter can be nerve-wracking. Trusting someone else with your precious bundle of joy may seem impossible, but they'll be just fine. If you feel nervous, start with having a sitter come over after you put your baby to sleep. Chances are your mom or mother-in-law will be more than happy to take care of the baby while you have a night to yourselves.
7. Hold hands
Hold hands wherever you go. This will create a closeness that can be easily forgotten with the excitement and pressure of new parenthood. Holding hands can calm your stress and give you the intimacy needed to keep your relationship healthy and thriving.
8. Get a hobby
Find a hobby that you and your spouse can do together. This can be something you do outside or inside the home. My husband and I love to do puzzles together. It's so simple but working on something together creates a sense of closeness that your marriage might need.
9. Post pictures with each other
If you're into using social media, you might want to post every picture you take of your new baby. It's awesome that you want to show off your new love, but make sure your spouse doesn't disappear from your social media channels completely.
10. Pray together
Praying together creates the ultimate sense of closeness and comfort. Having that peaceful time together can calm all of your parenting worries for a short time so you and your spouse can reconnect with each other.
11. Do something spontaneous
With all of your new responsibilities that come with having a baby, you might lose your sense of spontaneity. Do something extra exciting with your spouse that you don't normally do. If you feel comfortable leaving your baby with a trusted sitter, take an overnight trip to a nearby city to get away. Doing things like this will keep the spark in your marriage alive and give you quality time to reconnect and stay connected with your spouse.
The common theme in these eleven ideas for keeping your marriage alive after your baby is time. Spend quality time with your spouse whenever you can and your marriage will be better for it.