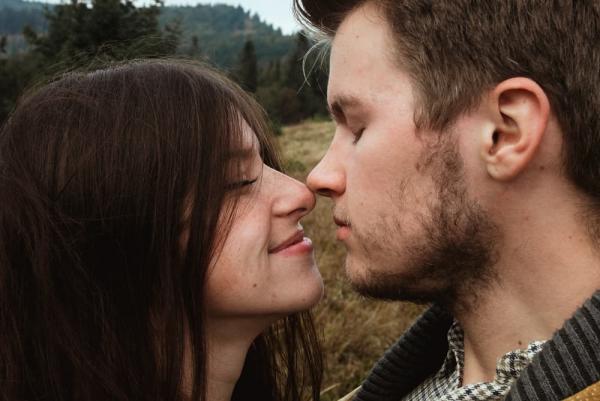 Years of being in a relationship can mean mundane routines can replace the romance but it doesn't have to be that way. Take a look at these 14 gestures that will make your man fall for you all over again:
1. Give him a "man bouquet"
Flowers may not strike his fancy, but gifting him a bouquet full of his favorite things will win you the much coveted "best-woman-in-the-world" award. You'll also get his gratitude and appreciation by being so thoughtful. Include his favorite candy, snacks, gum and a new movie or video game he really wanted. Tape on stems, stick in a styrofoam base and your bouquet is ready to go.
2. Buy a cool T-shirt
Keep your eye out for a t-shirt with his favorite band, sports team, video game, movie or TV show. When you surprise him with a t-shirt like this, he'll know you know what he likes and will appreciate your unique attention to details. Every time he sees that shirt he will think of you.
3. Have an impromptu day trip
Leave all your work and worries behind and get away for a day. Plan the food, lodging (if you are going for the weekend), and transportation. Take him on an adventure he'll never forget and probably desperately needs.
4. Splurge on his favorite cookie recipe
Does he have a favorite cookie or other dessert? Find a good recipe, buy the ingredients and surprise your man with fresh-baked cookies the minute he walks in the door. The smell of freshly baked cookies and your loving smile (and chocolate covered kiss) will tell him that you made a special effort just for him.
5. Send him random texts
Did you see something on your news feed that you thought your man might be interested in? Shoot him a text and let him know. Not only will he appreciate whatever it is you want to show him, but it will also tell him that you are thinking about him.
6. Give him love coupons
For his birthday, create love coupons. Each coupon can be cashed in when he wants - feel free to fill these out with favors you can do for him (like doing the laundry on "his" day) or the chance to go to the movies (where he picks you pay).
7. Keep a jar of love
Write down fifty or more things you love about your man and place them in a jar. Every morning he can take one out and read it. This is a small way to acknowledge all the things he does for you.
8. Host a week of surprises
For one week surprise him with little things each day. The price tag attached to the gift really doesn't matter - It could be simple and inexpensive like his favorite dessert, or it could be something a little more grand like tickets to see his favorite sports team. You will enjoy seeing his face light up for each gift he receives.
9. Following up on a conversation
Did you just see something that reminded you of a conversation you both had last week? Mention it to him. These little moments tell your mister that you care enough to listen and remember. In other words, you show him that you love and respect him.
10. Create a gratitude book/list
For a month or more, write down at least one thing everyday that makes you grateful for your man, then give him the list or notebook. It may seem a little cheesy, but everyone likes to be appreciated.
11. Pick up the check
Normally the man pulls out his card or cash to pay for that delicious restaurant dinner, but change it up and pay for it yourself. You might already share a bank account, but the gesture is an example of your love for him.
12. Give him an unexpected compliment
Though your man may never admit this, he really appreciates and needs those words of affirmation. You will want to give him more compliments when you see how he reacts.
13. Give a massage
Has he had a long day at work? Well, give him a massage. Nothing says "I love you" more than taking care of his aching body.
14. Ditch the to-do list for one day
Just set it aside and be totally carefree for just one day. Make this day a time for you and your man to bond and grow closer together. The things on the list, as pressing as they might be, should always take second place to your family.
Getting your mister to fall for you isn't about the big things - it never was. These little touches will remind him how much he cares about you.
---
Sign up here for our weekly FamilyShare email and get more of the stories you love.