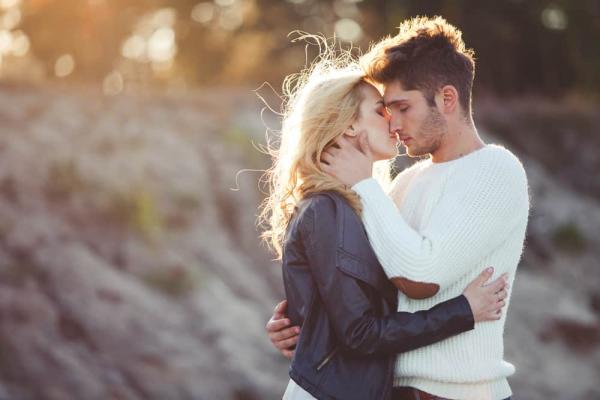 If you've hit your first wedding anniversary, then you probably know that the honeymoon stage doesn't last forever. Those butterfly feelings for the "birds and the bees" might have calmed down a bit over time.
If you ever find your marriage in a bit of an intimacy slump, try out these three quick solutions to inspire your sex life!
1. Change up the time of day
Perhaps in your younger days it was never too late (or early) for a little intimacy with your spouse. However, these days your body starts screaming for sleep around 10 p.m.
So try changing up the time of day. Don't wait to fall into bed to initiate sex. Rather, initiate it at 8 p.m. when you both have a little energy left and when you both have some kind of desire to be close to each other. When you wait until your teeth are brushed and the lights are out, your body may have already slipped into sleep mode (that's a nice way of saying there is no way sex is going to happen). So avoid the danger of the late-night hours and make it a priority to have some alone time with your spouse earlier in the evening.
Or, you could initiate sex in the morning, or the middle of the day on the weekend or a day off. Pay attention to your spouse's preferences, but change up the time now and then.
Enjoy the spontaneity of making love at 2 p.m. on a Saturday afternoon, or at 5 a.m. on Wednesday morning (long before the kids are awake, or the commute to work beckons). Changing up the time of day is a perfect way to add some romance back into your love life.
2. Plan on it
By planning on it, we don't mean that you should get out your calendar and schedule time for sex (though that may help some couples). What we mean is that you should give your spouse a little nudge and a wink before heading off to work in the morning, just so they know that you're already looking forward to coming home.
Send him a text during the day that says, "I love you hunk! I can't wait for tonight!" Leave her a little note in her car, sprayed with your cologne, that says "XOXOX ... later?" Or simply give him that look at the table Saturday morning and then mouth the words, "Let's go upstairs ... "
Whatever your approach may be, let your spouse know that you're looking forward to some intimate time together; and the anticipation makes it more fun.
3. Focus
Intimacy demands focus. It's time for just the two of you - away from work; away from the daily routine; away from the kids. It gives you time to recharge, reconnect and be alone - together. One of the best ways to make sex more romantic is to learn to focus.
Forget about your to-do list, or the stresses of work. Forget about your kid's science fair project, or that text that someone just sent you. Just focus on each other. Focus on helping your spouse feel loved.
Men, this may include giving your wife time to talk, to cuddle and to share everything going on in her life. Just remember that emotional intimacy is an important part of marital intimacy (and also leads to much more satisfying physical intimacy!).
And Ladies, know when to stop talking. When it's time for the physical sparks to start flying, it's time to stop talking about the day's events. Nothing breaks the romantic mood like sharing that random thought that just came into your head right in the middle of a romantic moment. Keep your mind focused on your husband and be present.
Be intentional about this intimate time together - a time that should be free from any and all distractions. It's a time to fully enjoy each other. If your marriage has fallen prey to the "intimacy blues," then make some changes to spice things up. Try changing up the time of day, letting your spouse know you're planning on it and fully focusing on and enjoying each other!