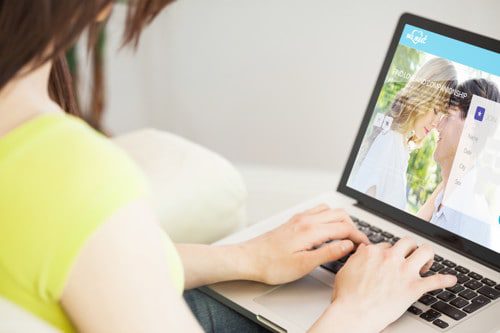 OK, let's be real. Why does it seem like every time we use an online dating app - cough, cough (Tinder) - the only people we are presented or matched with are creeps?
To help reduce the creeps you encounter, listed below are five new dating apps that will help you navigate away from the scalawags and straight to your potential matches.
Hinge
Who knows you better than your family and friends? My guess is probably no one. Hinge is a unique dating app that uses your Facebook account to find matches that best fit you based off your unique social circles. It takes your family and friend connections into account as it produces matches.
Justin McLeod, a 29-year-old from Louisville, KY, launched the dating app Hingein his hometown in 2015. Since its initial release, the app has gained significant momentum and has spread to seven cities: New York; Washington, D.C.; Boston; Chicago; San Francisco; Atlanta and Philadelphia. According to Hinge, the Dallas and Los Angeles sites are currently in the works.
This app requires its users to log into their Facebook accounts to verify they are in fact who they claim to be, helping to eliminate questions of character. Once you have logged in, the site asks you to identify your gender, what gender you are interested in, your age (cannot be over 35) and your current location.
Next, the app helps eliminate or soften the creepiness of meeting potential dates online. To accomplish this task, Hinge uses a formula that matches you with individuals that have a connection to either your friends' or your family's social circles.
In a New York Times review, male users described this app as a tool that promotes more socially accountable behavior, reduces the randomness as seen from Tinder and reduces the feel of individuals solely concerned with one-night stands.
Hinge is available to iOS and Android users.
Coffee Meets Bagels
Are you a young and ambitious individual in the Big Apple asking yourself, "Where are all the good ones?" You are certainly not alone. The three sisters started the dating app Coffee Meets Bagel (CMB) in 2012 to help individuals sort through the masses and find their quality match in the big city.
According to CMB, the dating site was developed and centered on these three principles:
1. Unless you want to tell others, your dating life should remain private.
2. Your friends are the best conduits for your dates.
3. Meeting quality people doesn't have to be so awkward or complicated.
So, how does it work? Everyday at noon, CMB will send you one match that has been highly analyzed and curated to your specific preferences and social demographics. The company prides itself on its belief that the emphasis should be on quality not quantity. You can either choose to accept your match or wait till the next available match.
Co-founder Dawood Kang described CMB as a place for, "singles looking for real relationships - not browsing, not entertainment, not hook up," to meet and interact.
Coffee Meets Bagels is available to iOS and Android users.
Tastebuds
Need a break from your typical dating platform? Try Tastebuds, a dating app released in 2012 by Alex Parish and Julian Keenaghan in London, England. This app was developed to promote the pairing of people through similar tastes in music.
Music taste tells a lot about an individual and provides a solid conversation starter for the first time you meet. Tastebuds acts as a catalyst for youthful individuals to meet and communicate together.
In a Huffington Post review, author Emma Gannon said, "The success of Tastebuds.fm clearly comes from this unique focus. They have found that 43% of first messages get a reply, which shows it's far more likely you'll get a response to a message than a non-music based dating site."
If you're interested in more than just looks and searching for an individual who shares your similar taste in music, sign up for Tastebuds and find an individual to rock out with.
Tastebuds is available to iOS and Android users.
Bumble
Get ready, folks. Let me introduce you to the fraternal twin of Tinder, Bumble. Bumble puts the power in the ladies' hands, switching up the perceived dating roles. Whitney Wolfe, a co-founder of Tinder and founder of Bumble, created the new dating app in 2015.
Here is how it works: Men and women can both swipe right or left based on their preferences, but only the women can spark conversation with their matches. Adding to the pressure of making the first move, the app only allows the female user 24 hours to start the conversation before the match disappears.
According to a review published by askmen.com, "Bumble aims to make the online dating-sphere an equal playing field for both men and women."
Ladies, if you are looking for a place in the driver's seat, take Bumble for a spin. You ultimately get to decide where to go.
Bumble is available to iOS and Android users.
Score
Are you looking to score big time when it comes to your online dating game? Score was produced in 2015 by developer Casey Cordes.
Cordes produced an algorithm on match-dating to help create emotional compatibility matches based on individuals' responses to quirky quizzes. Sounds like Tinder meets online compatibility quizzes, right?
When you apply, you will be asked to upload three profile pictures. Next you will be guided to the quiz section, where you and another individual will be paired up to take the same quiz at the same time. Neither of the individuals taking the quiz can see what the other looks like. The point of this aspect is to ensure you answer the quiz questions honestly before unlocking the other's pictures. If the two of you have two or more similar answers, both of your profile pictures will unlock and you can start a conversation from there.
The point of Score is to create a non-lose or an anti-rejection environment and to match individuals based on similar interests.
In a review article published by Bustle, Cordes said, "We made it so there's no negativity. There are no wrong answers. What you answer is your answer. There is no real rejection model."
You can't go wrong here; in fact, you might just score.
Score is available to iOS and Android users.