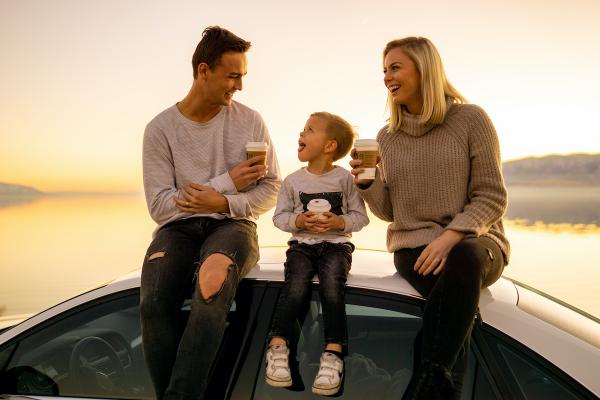 If you are married, Valentine's Day may look a little different than it did when you were dating. If you're no longer newlyweds, Valentine's Day may not be a big event. Couples generally express their love for each other throughout the year and often view Valentine's Day as a money ploy. If you're married with children, Valentine's Day has most likely shifted towards heart-shaped waffles and assembling classroom Valentine's mailboxes.
Regardless of how you celebrate the day of love, there are several ways you can have fun without spending a ton of money and incorporate the kids into the mix. We've come up with some stellar ways you can spend February 14th with or without the kids. If you're feeling ambitious, you can celebrate by recreating a handful of our ideas.
Family brunch or dinner (with kids).
Typically, Valentine's Day dinner is the norm; however, depending on your family's schedule, brunch might make more sense. Go a little extra and create special Valentine's Day invites for your family. You can do this for free with graphic design sites such as Canva. The invites do not need to be super fancy, but a physical invitation is a special way to set the mood. On the invite, ask everyone to dress to impress. Dressing up is a fun way to celebrate. If you have toddlers and decide to eat in, Valentine's Day pajamas for the family are always a win and less stressful.
If you're dining out of the home, make sure you make reservations in advance. Take everyone's likes and dislikes into consideration before landing on a place to eat. If you're dining in, go to the Dollar Tree or Target and pick up a festive tablecloth, napkins, and plates. You don't have to spend a lot of money to make the dining area feel on theme. Try to incorporate heart-shaped foods or V-Day themed foods into your menu. For example, if you're planning a brunch make heart-shaped waffles and consider adding a little pink food coloring to the batter to make them pink.
A family brunch or dinner is a wonderful way to celebrate together and a memorable tradition to continue.
Date night at home (without kids).
Date night is oftentimes a special occasion that is overlooked. If you don't have access to a sitter, you can still have a date night. Plan the evening beforehand – if you have children, let them know that you need their cooperation. Offer a bonus incentive if they're good and stay in bed. For example, they can have an extra 15-30 minutes of screen time or a dessert the next day.
Once the kids are in bed, kick off the night by changing into actual date nightclothes. Just because your date night is at home doesn't mean you shouldn't look the part. Changing your attire is a way you can show your spouse that you are physically attracted to them and view this time together as quality time.
Date night can be creating a meal together, ordering dinner from your favorite local restaurant and watching a movie, a fire alongside a Valentine's Day dessert, taking an online class together (yoga, painting, DIY, etc.), or playing a board game together with a bottle of wine. Sometimes the most memorable Valentine's Day moments are the ones that are small and low-key.
Celebrate like the day you got engaged (with or without kids).
If it is doable, go to the place you got engaged and reminisce about that special day. Obviously, no one needs to get on one knee again, but reliving the moment is a great way to remember one of your happiest memories.
If you have children, bring them and retell your engagement story. Allowing your children to see this chapter of your lives is a great way to bond and show them the true meaning behind Valentine's Day.
Start a new Valentine's Day tradition (with or without kids).
Creating new traditions is a wonderful way to set the tone for future Valentine's Days. Couples without children can agree to always cook dinner together, spend the day together by doing a special activity, or share their favorite dessert.
Couples with children can create Valentine's Day cards for each other (and other family members outside of the home), cook a meal together, or have a bake-off and create a delicious dessert as a family.
Create an album of your love story (without kids).
With companies like Minted, Shutterfly and Walgreens there are a plethora of photo album creation options available. Gather all of your pictures and block off time solo time together to go through the memories. Looking at the photos and putting them into an album, for future reminiscing, is a special way to spend the night and remind each other why you decided to spend the rest of your lives together.
Create a charcuterie board so you have a little something to nosh on while you go through the pictures. In the end, you'll have full bellies and a beautiful photo album that your family will treasure for many years.
Valentine's Day shouldn't feel like a lost celebration for married couples. There are a number of ways couples, with and without kids, can share a memorable Valentine's Day with their spouse. Instead of focusing on what to buy your special someone, consider thinking about the ways you can spend quality time together and create long-lasting memories you'll cherish.