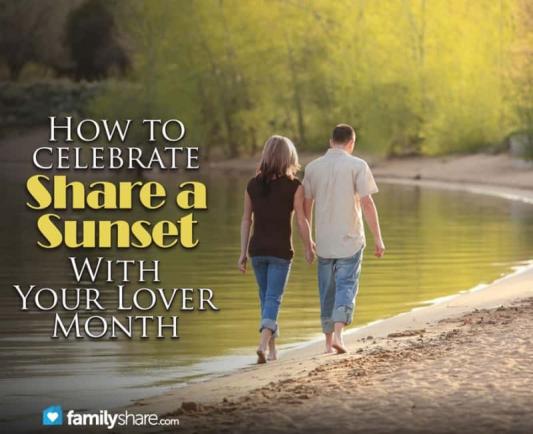 As life throws us in a million different directions, we often don't make time for tasks that should be a priority such as spending one-on-one time with our spouse. We make time keeping the kids busy or running errands but we don't spend that quality time with our spouse like we should. July is Share a Sunset With Your Lover Month. This month-long holiday reminds us how important time with our spouse truly is. Below are five fun activities you and your spouse can enjoy doing together this month.
1. Go on a picnic
While the weather is warm, spend time together in the outdoors. Prepare a picnic and go someplace where you can be alone to enjoy it and watch the sunset. Spend time talking to one another and catching up with each other. You can even add a romantic touch with candles and soft music. Or, sit in the bed of a pickup truck while watching city lights. There are no limits to the creativity and romantic gestures you can make.
2. Visit an amusement park
If you and your spouse love excitement and thrills, visit an amusement park. Ride the rides next to each other and walk around the park holding hands. Have fun away from the children and do things at the park that just the two of you enjoy until the sun sets. Make this time all about your relationship and have fun enjoying each other's company.
3. Go to a drive-in movie
If you want to see a movie, go to a drive-in movie theater. Don't coop yourself up in a movie theater with a crowd of people. Spend time alone in your car, watching the movie and cuddling. Get there as the sun sets, and then enjoy the show. You rarely get to spend one-on-one time with one another so make this moment truly count.
4. Watch a firework show
There are few things as romantic as cuddling under fireworks. Leave the children at home or with friends and go somewhere just the two of you can enjoy the sunset followed by a firework show. In July, there are a variety of firework shows, find one and make it a priority to attend. Don't let anything halt your plans. Sit back, relax, cuddle and enjoy some fireworks in each other's arms.
5. Stay nearby
Because of busy schedules it is hard to plan an entire night or day away from the family. Instead, put aside just an hour or two. You can go on a sunset walk or go get ice cream. Just get away from the hustle and bustle of daily life and focus on one another. You need time together to keep that spark alive. You need to have space apart from your children to focus on each other and help your love grow deeper.
Don't let the love between your and your spouse grow dim. Get out of the house and do things together. Watch the sunset together and enjoy each other's company, or participate in one of the above suggestions. It doesn't have to be elaborate and you will enjoy spending a little personal time with one another.
Want to celebrate other unique holidays? Check out our Facebook Page for more fun holidays and ideas.