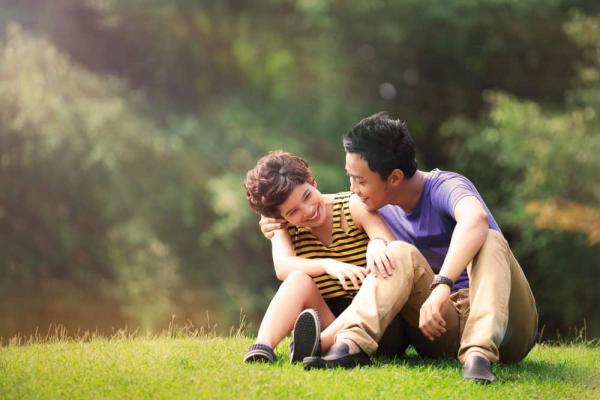 Is it possible to keep a long-lasting and happy marriage?
YES! It is possible to attain a state of complete, continual marital happiness. A happy marriage requires growth and maturity both in the relationship and in the couple involved. Growth and maturity create marital strength through unity and giving of oneself.
Both the boy (becoming a man) and the girl (growing into a woman) long for independence. They crave the freedom from the watchful eye of their parents by joining the companion and love of their lives through marriage. The covenant of marriage includes a long "user agreement" full of "small print."
The small print includes hardships, trials, differences and difficulties which will inevitably be faced. How these situations are handled and resolved will make or break a happy and long-lasting marriage.
In order for marriage to succeed, it is necessary to obey the user agreement. Knowing how to best live together comes as couples live together over the space of many years, learning to love each other more day by day. There are a few principles, to be detailed below, which will help you in your journey toward a daily happy relationship.
1. Cooperation
Often, as their life together begins, couples work together by dividing the chores evenly. As time flows, however, the balance tends to tip, eventually toppling over. In order to clear this hurdle, continue cooperating even if it is hard. Keep the equilibrium in order to bring to your home harmony and commitment. As the children come and grow, divvy up the responsibilities among them as well.
2. Finances
As young couples start out, both parents are typically working and the expenses are minimal. Take advantage of this opportunity to save some money for a rainy day. You and your wife are striving to meet your goals. Both of you have dreams and aspirations you hope to achieve, including that of parenthood. So before the expenses start to rack up, use the precious time you have to administrate and organize your finances. Pool your money without keeping secrets and pay the necessary bills. That way, with black figures, you can start an emergency fund.
3. Recreation
There is little more enjoyable than laughing alongside the one you love. That is how it was while you dated, and it should continue that way. Do things together. Go to the park, find a gym, dance together, go to the movies, practice a favorite sport, go to church together or find a gift for each other for no other reason than to say, "I love you." Look for something, anything, to do together. Having fun should be the base of your relationship.
4. Intimacy
Sexual relations between a man and a woman are a gift from God. He has granted us this gift, hoping to unify and make parents out of you and your spouse. Couples that maintain regular sexual activity will discover an increase in love one toward the other. Intimacy should not be the main reason or purpose for marriage, but should be used as a method of increasing the affection between partners.
5. Friendship and fidelity
Faithful couples love each other and are true friends. This is the purpose of marriage. It all starts with friendship and loyalty, eventually creating immeasurable and long-lasting bonds of true love. Children will come, stay a while and eventually leave the nest, but the couple is together forever - husband and wife, unified through the covenant of marriage. Look into the future and see yourselves. Can you see a time where no amount of money can buy happiness and friendship? Can you see a time when instead of being bought, happiness and friendship were hard-fought over the decades of living together? Can you see a time when years of experiences endured together have built a greater importance of marriage in your lives?
6. Respect, patience and humility
Showing weakness is no defect. Repenting of your errors is an act of nobility and forgiveness is a divine gesture. At no point during a marriage should differences, defects or wrong attitudes take precedence over the positive qualities in your spouse. As issues appear, be patient. Be willing to recognize that you were wrong, and repent as needed.
Let your pride, egoism and arrogance go. Instead, replace these feelings with forgiveness. As both you and your husband respect and forgive each other and accept correction, your friendship and mutual happiness will grow stronger every day. Never wait to ask for forgiveness until tomorrow. Asking for forgiveness today will let you go to bed and sleep together, hugging, without regrets.
Accepting the covenant of marriage is to be willing to do your part indefinitely, since this covenant is not designed to have an end. Adjustments will have to be made, differences will need to be resolved and difficulties will need to be overcome to keep the flame of love burning within each of you.
These are only a few principles that, if put into practice, can bring you and your spouse greater confidence, loyalty and love. With each of these pieces, daily happiness together will be within your grasp.
Translated and adapted by David Hall from the original article "6 Pricipios Basicos para um casamento ser diariamente feliz" by Sandro A Correa