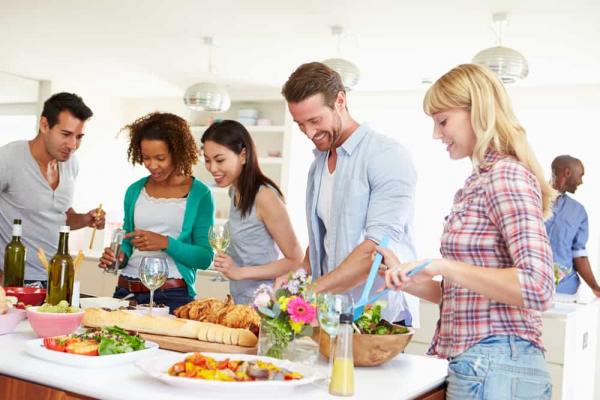 With so many dating sites and apps available, it's easy to forget that, according to survey results, most people still meet their future spouse in the real world. However, there are some places that are better than others for meeting a potential partner. If you're looking for love, you might want to consider meeting people in these six places:
1. A club (but not a night club)
You rarely hear a married couple tell people how they met at a night club or bar, and surveys confirm that couples who do meet in those places are less likely to end up married. But that doesn't mean that all clubs are a bad place to meet potential mates. Joining a club that focuses on an activity you love, whether that's golf, kayaking or chess, is never a bad idea. Surrounding yourself with like-minded people is a great way to socialize and can be a good way to meet potential partners too.
2. A volunteering project
According to an article in Medical Daily, shared values or beliefs make for a healthy, happy relationship, so volunteering for a cause that's close to your heart might as well benefit your love life too. If you and a potential mate bond over helping underprivileged children or restoring wildlife habitats, you have at least one strongly held value in common.
3. Your place of worship
If shared values and beliefs matter, it makes sense that meeting someone through your church, or other place of worship, can be a great start to a relationship. Your weekly religious service is obviously not an appropriate place to scope out potential partners, but in the twenty first century, many churches and religious groups have a lively social calendar. Get involved and make connections with others who share your faith.
4. A social event organized by a friend
The social 'scene' of bars and nightclubs may not be the best way to meet a long-term partner, but in a recent survey almost 39% of couples said they met through mutual friends. Your friends are often the ones to introduce you to your future spouse, so turn up to the social events they organize and pay attention to everyone they introduce you to.
5. Work
Workplace romances are often frowned upon, but for office workers, the workplace is still a surprisingly common way to meet a partner, and, according to an article in UK newspaper The Daily Mail, workplace romances are the ones most likely to end in marriage.
Research indicates workplace romances are even slightly more likely to lead to marriage than those that started after being introduced by mutual friends. It seems the common belief that office romances tend to always be short-term 'flings' is inaccurate.
6. Somewhere unexpected
It's true that we often find love when we're not looking for it. According to the book The Social Organization of Sexuality: Sexual Practices In The United States around a third of couples in one survey ticked the box 'other' to describe where they met, indicating that a significant amount of couples met somewhere not included in the survey as an obvious place to meet.
This is significant. It means that you really can meet the love of your life somewhere unexpected, while just going about your daily business. So be open. Talk to people. Make connections. Just because today is a day you have earmarked for mundane, unromantic chores and errands, doesn't mean it's not the day your soulmate is going to arrive in your life.