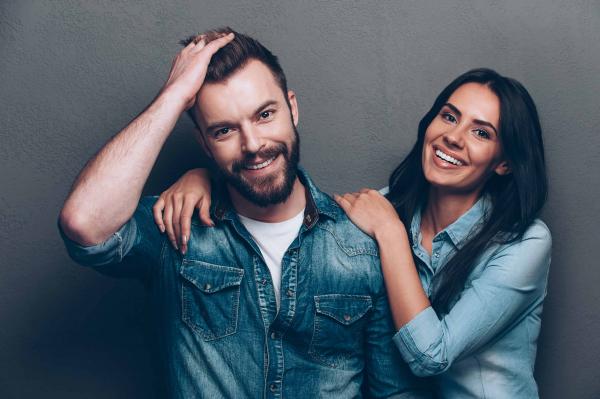 Time with your spouse is precious and hard to come by with a busy work schedule and a busy home, so it is important to make the most of the time you have been given.
To have your husband counting down the hours until he gets home from work, try implementing one of these 7 tricks.
Be positive
Keep a positive and optimistic energy about you. When your husband walks in the door after a long day at work, seeing your bright and smiling face will be a sweet reminder of what really matters in life.
Everyone has bad days. Your new shirt got stained, the car broke down, your kids were screaming all day and your laundry is still not done. But it is important not to let the everyday commotion bring you down and effect your attitude.
Send him love notes
A handwritten note on his morning coffee sleeve or a quick little text to your husband once a day is a sweet reminder of how much you love and appreciate him and all of his sacrifices. These sweet little surprises can be as easy as, "You are my world. I do not deserve a man like you!" or "I've been thinking about you all day. Hurry home!" These quaint little love notes excite your man to hurry home.
Offer him help
At night before the two of you are about to nod off to sleep, try leaning over and asking him if you can help him with anything. You can say something like, "I have a pretty free day tomorrow. Can I help you with anything you need to get done?" This small gesture can go a long way. He may say there is nothing for you to help him with or he might offer a small to-do list. Either way, the offer is gracious and helpful. Being attentive to what your man needs and what he is doing is a sign of appreciation.
Do his laundry
If you are looking for a way to appreciate your man ... do his laundry. At times it can seem like all your husband does is work. Every time you want to scream and pick a fight because your husband worked overtime or came home late ... do his laundry.
Examine his torn up and worn down uniform. Look at the stains in his shirt from working all day. While you are doing his laundry, you will be able to see the story that he was too tired to tell. You will appreciate him for his hours of sacrifice, he performs so you and your family will never go without.
Understand your need to be engaged
Take the time to read your husband. Understand his body cues so when he gets home you can recognize when you should ask him about his day and when you should give him space.
After a long workday, a husband loves to come home to his confidant and safe space. Engage yourself in your husband's work endeavors. Offer a listening ear to the problems he faces at work, vocalize your opinions when it is appropriate, and provide a fresh new perspective your husband may not have thought about before.
Support him in his lifelong career goals
To be successful in a career one must put forth the effort and time required to climb the ladder of success. To move up in the work ranks, a man must be willing to go above and beyond the call of duty. He must recognize the importance of putting in more effort than the typical 9-5. A supportive wife recognizes the ultimate goal her husband is working toward.
Understand that your emotional response is important
Sometimes your husband works late and misses an important event. Try to be understanding and forgiving. Talk to your husband when he finally makes it home about all of the hard and time-consuming endeavors that took his time throughout the day. Engage more in his work career so you can fully understand why he thought the sacrifice was worth it.