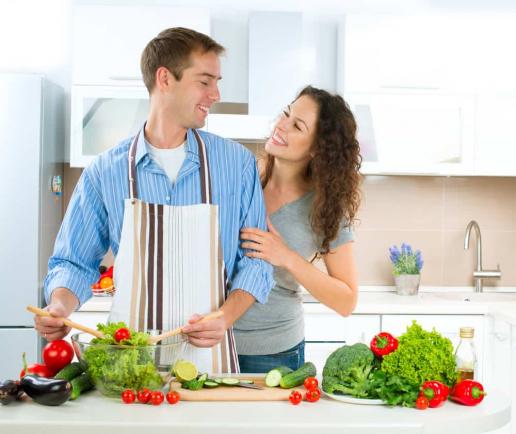 One day, I was in the kitchen preparing lunch when my son, still a child at the time, asked me to teach him how to cook. When I asked him why, he responded, "So when my wife gets sick, I can cook for her and our children." I became emotional and replied, "My dear, don't wait until she gets sick to cook for her. If you do it often, she will love you that much more."
Last week, my daughter-in-law called to thank me for the boy in the story above. He is now married and the father of two beautiful girls.
Now, let's review a few things that his father and I tried our hardest to teach him.
Be faithful and honor your family
"Likewise, ye husbands, dwell with them according to knowledge, giving honour unto the wife" (1 Peter 3:7). Just as we are to honor our mother and father, a husband should honor his wife, being faithful to her and seeking to understand her. She should also do the same for him.
Be gentle and polite
Small things like opening the door of the car or house for her or controlling the tone of your voice. These things are sure to deeply touch your spouse's heart.
Know how to do household chores and do them!
Just because your spouse takes care of the children at home does not mean that she doesn't work. She certainly works. Don't wait for her to ask, just help. The family and house belong to you both.
Say "I love you" often and behave like you mean it
Women never get tired of hearing these words, and they appreciate small, caring gestures.
Know how to surprise her
One Valentine's Day, my son left work early, went home early to get ready, bought a bouquet of flowers and then picked his wife up from work. He walked into the shop and gave her the flowers. Her coworkers looked on in curiosity. He then invited her to leave with him. I still remember the happiness in her voice when she called to tell me about it.
Be a hard and dedicated worker
It doesn't matter what you do for work. A wife will appreciate her husband's hard work to help provide for their family. Even if, for whatever reason, her salary is higher than his.
Look at the bright side in life
It's always better, in difficult moments, to have someone who always sees the cup half full instead of half empty. Being positive and knowing how to laugh in times of adversity are qualities a husband and his wife should always cultivate.
"Rejoice with the wife of thy youth" (Proverbs 5:18). Be a good companion and cultivate love. This will help your marriage last long.
Although she will reveal imperfections because no one is perfect, she will know how to recognize these good qualities, and she will happily return the kindness she receives.
Translated and adapted by Vaughn Christensen from the article "8 qualidades de um homem preparado para se tornar um marido exemplar" by Silvia Aparecida de Moraes.