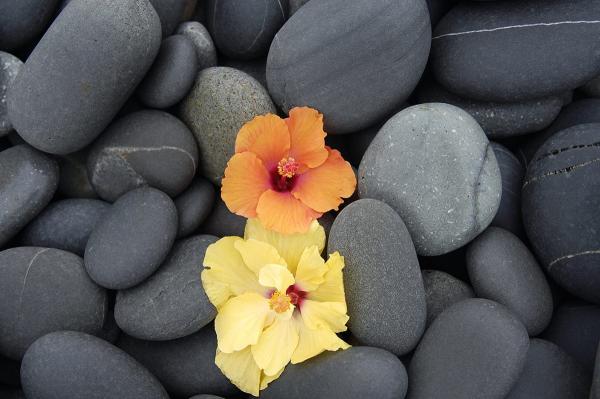 Marriage is a paradox. On the one hand, we strive for passion and romance, but on the other we desire friendship and security. We want to be "everything" to and for our partner and expect him to be the same way. The media love branding a new couple with a mixed name, like "Brangelina" or "Bennifer." It creates the idea that these two people have so completely melded into each other they no longer need individual names. Cue the romantic sigh.
Strangely enough, a relationship actually suffers when the two people involved are so into one another that boundaries become blurred or even erased. Passion and desire can be suffocated due to lack of space within the relationship. This occurs in a variety of ways, but most often either one person is completely subordinating his or her wants and desires in favor of the other, or the two people originally entered the relationship without clearly understanding who they were as an individual first, and therefore look to the other person to complete their identity for them. In other words, the phrase, "I just need to find myself," might actually have some validity in the context of future relationships.
But wait! Isn't that the ideal to become unified in all things? Isn't that what we're striving for? To be "one"? While that may be the eventual goal, there is a process involved and the steps can't be rushed. For example, I tend to be an impatient person. If there is a way to do something faster, I'll try it. However, when it comes to baking cookies I quickly learned that faster is not always better. Although most cookie recipes contain the instruction to mix the dry and wet ingredients in separate bowls before combining them, I decided to just go ahead and mix it all together from the very start. I added the eggs, flour, brown sugar, baking soda, and so on in one big bowl and set to mixing. It was much more difficult and several of the cookies ended up with lumps of baking soda, brown sugar, or lakes of melted butter. My children were not pleased.
I've now come to respect the baking process and understand the importance of having a wet bowl and a dry bowl and the magical chemistry that finally happens when the two bowls are ready to be combined - luscious cookie dough.
When we can enter into a relationship with a pretty good knowledge of who we are, what we like, dislike, what our strengths and weaknesses are, and with an understanding of our core values, we can better do the following:
Clearly express wants and needs in a healthy and direct way, and be OK with not always getting what you want.

Listen to the needs and wants of your spouse without becoming defensive or manipulative.

Remain true to yourself and allow your spouse to do the same which will actually deepen your intimacy.
That said, many of you are already in relationships and may be wondering how to establish healthy boundaries without undermining everything else because, for most of you, simply turning to your spouse and saying, "Well, I'm off to go find myself. I'll be back sometime!" is unrealistic and would do lasting damage.
So, what can you do? Here are a few ideas:
1: Observe your adult tantrums
That's right, I said adult tantrums. We all throw them from time to time, they're just more sophisticated than the ones in which we literally writhed on the floor. If you're feeling "entitled" to some action from your spouse and are pouting, using emotions deliberately, or withholding affection or speaking to gain it, you're throwing a tantrum. Figure out what it is you really want and remind yourself you're now an adult and can use your adult brain and emotions to communicate clearly and without playing games.
2: A healthy boundary isn't the same as being walled-in
Someone who knows who she is about is OK with her strengths and her weaknesses. She isn't afraid to be vulnerable because her worth isn't determined by the person sitting across from her. Connecting with someone requires letting the walls down and becoming your authentic self.
3: Recognizing and accepting how much choice you truly have
You choose to stay in your relationship. You choose your actions within the relationship. While you cannot choose how the other person will respond, by recognizing and owning your behavior and actions, you demonstrate your maturity and ability to be in an adult relationship. When bad times hit, knowing you are actively choosing to be involved in your relationship gives you strength and helps you rise out of self-pity.
An intimate relationship is a process. It requires time, effort and two people willing to be authentic and vulnerable with each other. Many couples, trying to discover why their passion has died overlook the idea that the culprit may be a lack of healthy boundaries, only to be frustrated when whatever else they try doesn't work. Breaking patterns and creating new ones can be a difficult task, but will help create the long-lasting intimacy many desire. Here is another article by Alisha on cultivating intimacy in a relationship.