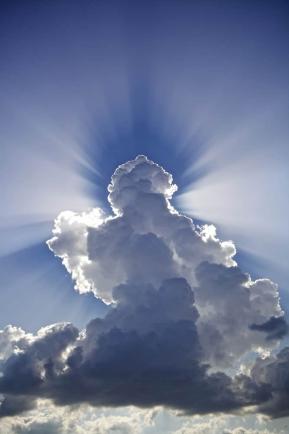 In our lives, we can often feel heaven reaching out to help us - either by angels or human angels who have been sent to help us. Amid the turbulent times in our life, God has not left us alone but often uses others to help us in our time of need. These helpers, both unseen and seen, can aid, strengthen and help us to feel God's love.
God does not leave us alone. He sends angels to assist us
Early political figure and religious leader George Cannon taught "There is not one of us but what God's love has been expended upon. There is not one of us that he has not cared for and caressed. There is not one of us that he has not desired to save, and that he has not devised means to save. There is not one of us that he has not given his angels charge concerning. We may be insignificant and contemptible in our own eyes, and in the eyes of others, but the truth remains that we are the children of God, and that he has actually given his angels - invisible beings of power and might - charge concerning us, and they watch over us and have us in their keeping."
Sometimes, angels are humans
Not only have we been placed in families that can help and support us, but we also have friends, teachers, neighbors and communities that can come to our aid. Spencer Kimball, a civic and religious leader explained, "God does notice us, and he watches over us. But it is usually through another person that he meets our needs." Sometimes, we are the vessel through which God helps others.
We have to watch and be ready
To be a human angel requires preparation on our part. We can more easily know if someone needs our help if we watch those around us and look for opportunities to serve. It may be financially, physically, emotionally or spiritually that someone needs our assistance. When the time comes, be ready to step in and serve.
Be spiritually prepared
Often, we may not be able to see with our eyes that someone is in need of our help, support or love. Because of this, we need to be prepared spiritually to receive inspiration to aid others. We can do this by living righteously and living worthy of the spirit. By doing so, our spiritual eyes, ears and hearts will be ready to know who needs help and what can be done.
Pray for guidance
God wants to help each of his sons and daughters. He also wants us to be the helpers. By praying to him, he can help us be more aware of those that need us to be their human angels. He can whisper, or place in our hearts or minds what needs to be done. This is more easily accomplished if we seek his guidance and talk with him through prayer.
Act quickly on thoughts and impressions
Once a thought or impression enters our heart or mind of something we need to do to help someone else, we need to act immediately. Often, the help needed is time sensitive. Sometimes it is not, but acting fast in such matters is usually the most beneficial. We will know if we simply need to call someone or if further action is required. There are all sorts of basic needs - emotional, spiritual, physical - that people need each day.
Being a human angel does not require wings, but simply a willing heart and ready hands. If we are willing to seek God's direction, we can be the angels in others' lives during their times of need.