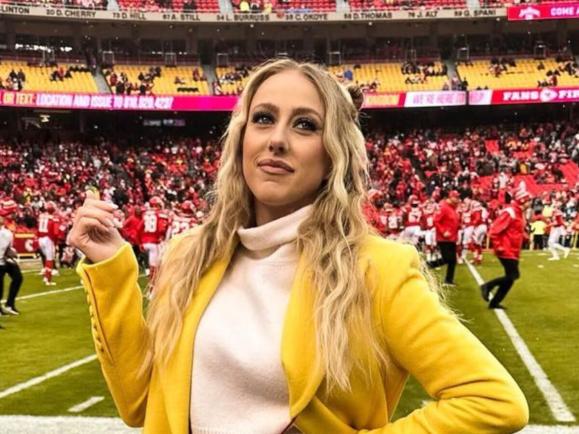 Kansas City Chiefs star quarterback Patrick Mahomes' wife, Brittany, recently took to social media to call out Joe Rogan. In a recent episode of his podcast, "The Joe Rogan Experience," Rogan discussed the Mahomes family with fellow commentators Mark Normand, Ari Shaffir and Shane Gillis. They began by roasting Jackson Mahomes, Patrick's younger brother, and Brittany.
Gillis said, "You know what I like, though? I came around on Jackson Mahomes. I'm a fan. His brother that does TikToks and his annoying wife that screams, everyone hates on them, and it actually makes me happy." Gillis continued, "Patrick Mahomes has a wife that's just wild. She's up in the box and films herself, and Patrick is obviously the man, and then he's got a crazy wife and a brother up in the box, doing all that s---."
Then, Joe Rogan added his thoughts. He said, "The problem is they keep that same energy when you get divorced. They come after you with that same energy." Brittany Mahomes didn't like what Rogan and the other commentators had to say and tweeted a response to Rogan and his visitors.
In response to Rogan's comments, Mahomes said, "Something about grown men talking s--- about someone's wife is really weird." She continued, "Actually grown a-- men hating on women, in general, is pathetic," adding a woozy-faced emoji at the end. Her tweets surfaced three days after Rogan's podcast came out, and clips circulated on social media.
Brittany Mahomes has no issue addressing haters' comments. After the Chiefs' most recent Super Bowl win, she echoed the sentiments of her husband and his teammate Travis Kelce, asking Kansas City doubters for an apology. She's also participated in some trolling herself on social media. After the Chiefs beat the Cincinnati Bengals at Arrowhead Stadium, which the Bengals called "Burrowhead Stadium," referencing how their QB Joe Burrow never lost a game against Kansas City, Mahomes tweeted, "Cancun on 3." The Chiefs ultimately advanced to the Super Bowl after winning that game.
The love story of Brittany and Patrick Mahomes is one that everyone knows and loves. The two started dating in high school but went to separate colleges. Brittany is an athlete in her own right, having played professional soccer with a team in Iceland. Though she won a championship, she returned to the states to support Mahomes and his NFL aspirations.
Whenever someone speaks badly of Mahomes or the Kansas City Chiefs, Brittany is always there, ready to defend her husband and his team. Some might wonder why she acts that way, but we must look at things from her perspective. Brittany and Patrick grew up together, so she watched him grow from a high schooler to an NFL player. She knows all about Mahomes' hard work, dedication and sacrifices he's had to make to get where he is now. So, it's likely frustrating for her to hear people discredit his work when he's worked so hard.
Not only does she know about his hard work, but he's also her husband and the father of her children. Some may have a problem with Brittany Mahomes, but she's only doing what any wife and mother would do.