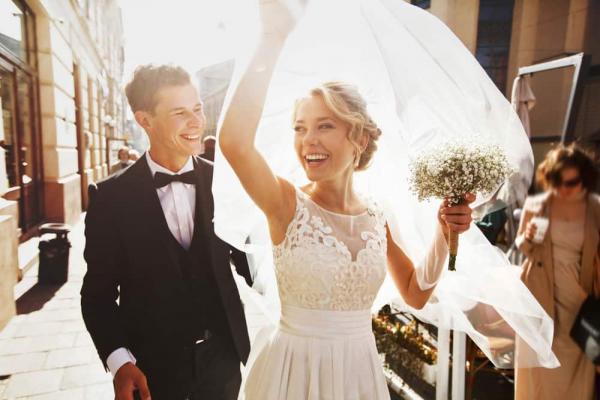 Think back to your wedding day. You looked in your spouse's eyes and promised them to love them forever, for better and for worse, and you were so excited to spend your life in marital bliss.
Now that you've been married for a bit, you realize that the "marital bliss" you were so excited for comes with bills, screaming kids, crazy schedules and very little time to spend with your sweetheart.
To make sure your marriage lasts through the chaotic times and rough patches, make sure you're doing these eight things every single day:
1. Don't leave your bed until you give your sweetheart a kiss
Before your kids are up and demanding breakfast, exchange kisses, snuggles and "I love you's" while you're still in bed. This little moment will be the perfect start to your day and keep you going until you get to see your honey again after work.
2. Say "I love you" whenever you have the chance
You can never say those three words too often. Reminding your sweetheart how much you love them as often as possible will give you reassurance in your marriage and your lives together. Plus, a little "I love you" text in the middle of the day might be just what they need to push through until you see each other again.
3. Do something unusually kind for your spouse
Showing acts of kindness to your spouse will lighten their load and show them how much you appreciate everything they do. If your husband works, make him a nice lunch with a sweet note to take the next day. If your wife goes out, have the house clean when she comes home. Your spouse needs your help, and when you look it's not hard to find things to do for them.
4. Make the bed together
Doing this simple task together every morning gives you time as a couple and lets you accomplish something together. Even though it's little and only takes a few minutes, it gives you a couple minutes of alone time to talk and bond.
5. Ask (and listen) about each other's day
If you're spending your life with someone, it's important to know what they do all day. No matter what it may be, knowing what your sweetheart is up to (and knowing the best and worst parts of their day) will help you know them on a different level and appreciate what they do for you and your family.
6. Take a time out
Even if it's only 10 minutes every day, take time to get away from the chaos of life and be completely alone with your spouse. Leave your electronics in the other room and give your sweetheart your full attention.
7. Give your spouse 100%
Some days your 100% might not be super great, and that's OK. As long as you're putting in the best effort you can, you and your honey can work together to create a fabulous marriage. You can't put a just little energy here and there into your marriage and expect it to be great.
8. Make your sweetheart know you love them
It's so important to say "I love you," but it's even more important to show it. Kind words, gestures and soft touches will let your sweetheart know they're the most important person to you and you love them with all your heart.
Building a lasting marriage takes hard work and isn't always easy. Everyone wants their marriage to last, so start by doing these eight things to build a solid foundation for a forever marriage.