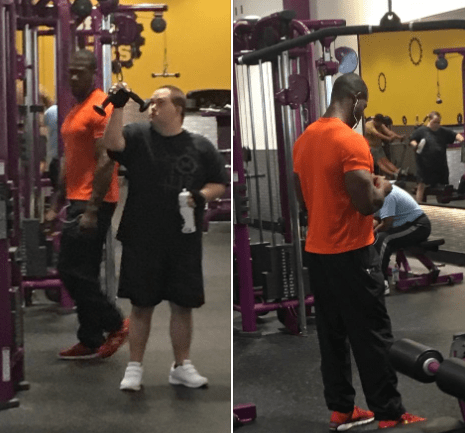 Ricky Derouen was at the gym in Pascagoula, Mississippi when he captured something truly remarkable on camera.
A man, who was later identified as David Samuel, was heavy into his workout when he was approached by a man with special needs - not just once, but about 10 times in a short time frame.
Derouen describes the moment:
"A special needs man constantly approached him about 10 different times in a 45 minute time span with handshakes, hugs, questions, and interactions.....not only did this man smile, laugh, give him workout advice multiple times, and joke back with him while getting in his own workout but he didn't care who was watching while doing it.....his patience, compassion, and friendliness was next level admirable.....towards the end of the workout the special needs man approached me and pointed to the man in the orange shirt and said 'that's my friend' with a huge smile on his face."
Derouen took to Facebook to brag about the kindness of the stranger.
"If anyone recognizes this man in the orange shirt, you walk up to him and shake his hand," he wrote.
"He doesn't seem like the bragging type so I'll brag for him ... The pics aren't the best but they were the best creeper pics I could take at the time, and this guy deserves recognition."
After the post, the man in orange was identified as David Samuel. His interaction was not only appreciated by Derouen, but by over 204,000 people who liked Derouen's comment on Facebook, plus the 6,000 people who commented on the post.
"What a wonderful world this would be, if everyone had his compassion," wrote one woman,
Another said, "As a mom of three with special needs this warms my heart!"
Be kind ... no matter what
That day at the gym was probably just a normal day for Samuel. His kindness wasn't staged or to make a show. He just did what was natural.
In our world that's too often full of lying and manipulation, it can be easy to get jaded and build a wall of apathy between yourself and strangers. As Derouen wrote, "The world needs more people like this man in the orange shirt, well done sir."