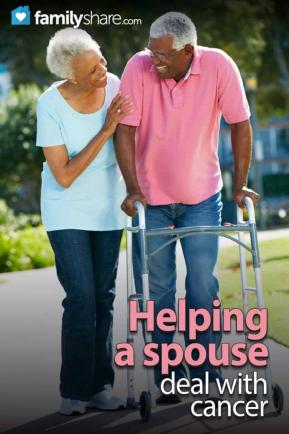 My mother spent eight years caring for my father following his first devastating stroke. Toward the end of his life my father's doctors discovered that in addition to many of his other maladies, he had prostate cancer. My mother had a strong reaction to this diagnosis. Even though she had embraced her role as his wife and as his caregiver, she was not ready to face the heavy slap of the word "cancer."
A nutritious approach to comforting a cancer patient
What had taken hold of her was fear. This invisible enemy seemed to have the advantage. How do you conquer something so invasive and elusive? Finding a tangible way to fight against it was her saving grace. Her weapon against her feelings of helplessness was to insure that my father received nutritious meals. Opting to support him from the inside out, she worked to empower his body with nutrients. This gave her an opportunity to show her love and support, even when she felt discouraged.
There are many variables that need to be taken into consideration when addressing the nutritional needs of a cancer patient. Consulting with a registered dietician or nutritionist can provide a spouse with the necessary information to help a cancer patient face this difficult disease.
Cancer can affect a person's diet and eating habits
Malnutrition is not uncommon with cancer patients. Peggy Stanfield and Y.H. Hui share in their book "Nutrition and Diet Therapy" that cancer patients can experience a lack of appetite, difficulty in swallowing, nausea, issues with proper salivation, taste sensation complications, ulcers, diarrhea and/or malabsorption. Understanding all of these possible issues in regards to a patient can help a spouse in preparing nutritional meals.
Few things in life are as comforting as a meal (cooked with love) that satisfies the soul and nourishes the body. There are times when someone struggles to know the right words to say or the right things to do. Often caregivers bear the weight of focusing their full attention on the wellbeing of those in their care. They, themselves, can become forgotten, even as they provide an amazing service.
Seek the assistance of medical and nutritional specialists
Reaching out to a qualified individual to develop a nutritional care plan can ease some of the burden a spouse may feel. Receiving patient-specific advice gives the spouse a starting point when preparing and providing meals for his or her loved one.
I often watched as my mother would lovingly prepare a meal for my father using the nutritional and medical advice she was given. It was comforting to her, and supportive to him. Consulting with doctors and nutritionists following his procedures gave her insights into his physical needs and allowed her to better understand what they were facing together.
Strengthen your marital bond
It may have seemed simple to some, but it was exactly what they both needed to bond together and feel empowered with my father's disease. I hope that anyone who is in the difficult position of helping a loved one face cancer can find some comfort in knowing that she or he can help combat the disease through proper nourishment.
You may not always have the right words or know the right way to approach difficult obstacles. But knowing how to properly nourish yourselves and your relationship with a healthy diet can bring some peace and comfort during the most difficult times.