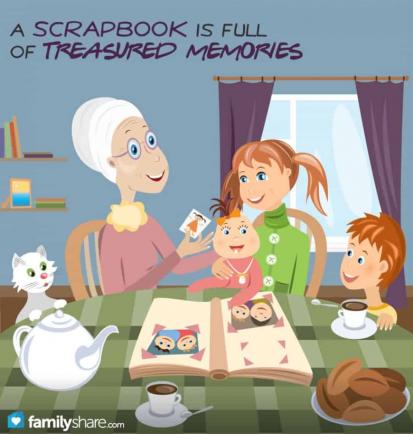 Throughout the years, I have found a way to form a unique bond with my grandchildren: When they turn 12, I present them with a scrapbook. It is not only a collection of photos, but it also contains brief written histories of their lives and ancestors. I call it a "Book of Remembrance."
Next to my grandchildren, my camera is my best friend. I love to post the children for pictures or catch them when they're not paying attention. I live to add diversity to the collection of photos. My amateur photography sessions are a great way to interact, and photographing them individually makes them think that they are secretly my favorite. (Needless to say, all of my 18 grandchildren are my favorite.)
When it gets close to the allotted birthday, I develop the pictures, paste them on paper, and write a few words about each one. The writings that accompanying the photographs are essential in helping my grandchildren relish their legacy and form an appreciation for themselves. The completed pages are inserted in sheet protectors and placed in a binder. (Mass production of ancestor photos and their stories simplify the process.) Then I separate the pages into categories that are sectioned off with labeled tabs:
Childhood
Photos and written memories of their childhood experiences.
Parents
Photos taken with their mom and dad, and a page organized with pictures of their parents as children.
Siblings
Photos taken at random with their brothers and sisters.
Grandparents
Pictures taken with both grandparents, and childhood, marriage, and recorded stories of their grandparents.
Ancestors
Photos, genealogy charts, and simplified stories of their ancestors.
Religious
The grandchild's written convictions are an important asset to the book. Likewise, inspirational experiences of grandparents are recorded. Baptism photos are essential as are pictures of important religious leaders.
Activities
Baseball, piano, dancing - it doesn't matter. The pictures of their accomplishments are an important segment of their stories.
It is an amazing bonding experience, when I present the "Book of Remembrance"to them on their birthday. Together we scan the creatively arranged pages of their lives.
Included in the book is a letter of my memories of their birth, childhood, etc. and all of their positive qualities. I want them to know that they are respected, cherished and loved by their grandmother. The letter concludes with, "I loved making this book for you. Every picture I pasted and every word I penned made me feel like I was an integral part of your young life."
This scrapbook, laced with memories and histories, becomes a bonding pillar between a grandmother and her grandchildren -a treasured remembrance to live on indefinitely.