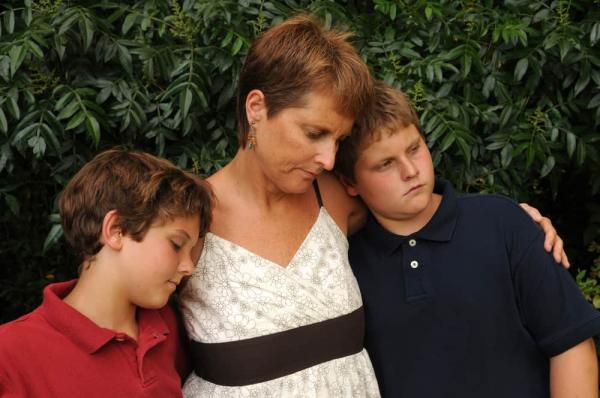 One of the most heart breaking events that will happen is the death of a loved one. Having experienced this a couple of times, I can tell you that when you have children, it is never an easy task to talk about death to them. When my father-in-law passed away way too early in life, it was a time of great loss for all of us. My wife was very close to her father so it was especially hard on her. Our boys had the opportunity to know their grandpa and loved spending time with him. We had a wonderful opportunity as a family to discuss what happens when someone dies, the importance of death and the heartbreak that can come from losing someone love.
When we become parents and we are faced with having to teach our kids about death, it can be a very tough situation. If it isn't handled right, it can often have devastating effects for a long time. There is no real happy way to discuss death with anyone, especially our children; however, it can be one of the most spiritual and uplifting experiences shared with family members. In fact, many parent/children relationships are strengthened during this type of teaching moment. Here are some helpful ways to teach your kids about death:
Allow for the discussion of feelings
There is no reason to try and suppress the feelings that come during times of sorrow. Most of the time that leads to a worse situation and can create a more difficult and confusing situation. Talk to your kids about what you are feeling and let your kids share what they are feeling. It is very important to have your children see your emotions, as it helps to humanize you. It also helps to show the value of love as you are showing these emotions because someone that you care about.
Ask questions
Questions lead to conversations and the more you can find out about what your kids know, feel and are concerned about, the better you can help them through this experience. This is an area where you don't want to be assumptive. The best way to do this is by asking questions. Here are some sample questions:
How are you feeling?

What are you feeling?

What questions do you have?

What do you miss most about (grandpa, grandma, etc)?
Talk about the good things
It is important to try and help your children understand the good things about the person who has passed away. Share stories that allow your child to gain positive insights. When possible, show pictures or videos that can bring a smile to both of your faces. Your child may or may not have actually ever known the person who passed away, but if they were someone special and significant to you, then they will be so to your child as well.
Allow there to be grieving
This may seem obvious, but often times adults/parents do not give enough credit to their children when it comes to grieving. They may think they are too young or that they did not even know the person who passed away. However, children are very sensitive to their parents, and when they see their mom or dad grieving, they will feel sad as well. Encourage your children to allow their feelings to be expressed, and then as mentioned before, discuss those feelings.
Comfort them
Maybe more important than anything as a parent is to provide comfort to your children. This can actually be very therapeutic to you as a parent. As you and your child go through this very personal, emotional and life-changing experience together, you will forever have this bond. As you provide love and comfort, you both will be able to look back on the experience with feelings that are warm and positive.
As I shared at the beginning of this article, our family has experienced this process on a couple of occasions. When I lost my father unexpectedly, I felt a serious emotional blow. He was one of my best friends and someone I looked up to. I had dreams as a young man of my dad playing catch with my boys. Well, that did not happen as my father died when my wife was pregnant with our oldest. As our three boys have grown up, we often talk about my dad. I show them pictures and videos. They see a grandpa, and while they may have not known him physically, they know him, the miss him and most importantly they love him.
Our boys, at times, show emotion in regards to the loss of both grandparents; they see other grandpas at baseball games, plays or scout activities and they miss their own grandparents. We let them show their emotions as it is truly heartwarming. This for us a sign of deep love and respect, which is something we have emphasized as parents. Although death is an event that brings sadness and loss, it can truly be one of the greatest teaching opportunities for parents. This can help build strong relationships between kids and their parents and this is something we need more of in today's world.