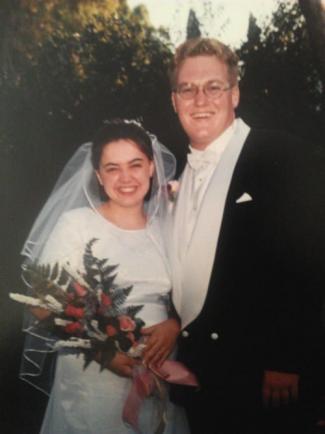 Jennifer Suitor had been married to her husband Christopher for over 15 years when a single wart changed their lives forever.
Her husband, who had never had a wart in his entire life, developed a huge plantar wart right on the heel of his foot, making it incredibly painful to walk.
Finding a treatment
Suitor knew a common remedy for warts is to freeze them, so she tried that with her husband. But after freezing it, one wart became three. When they tried to freeze them again, three became five.
"Every treatment we did, more and more popped up," Suitor told FamilyShare in an interview. "Within six months he was pretty immobile. He didn't want to be in a wheelchair, he likes to be strong and tough."
Suitor said walking on a wart is like walking on a popcorn kernel. She and her husband tried several types of treatments when the freezing didn't work, but all the treatments made his feet even worse.
"All the treatments we did involved things like acid, chemo, cutting and things like that," Suitor said. "His feet were always on fire because of the treatments."
He was missing out on life
At this point, Suitor was desperate. Her husband, strong, tough and independent, refused to be confined to a wheelchair, but couldn't walk without intense pain. Her husband was starting to withdraw from life - he missed out on family outings, and other social gatherings because it was too painful to attend.
"People were always asking me where my husband was," Suitor said. "They all took it personally that he retreated from everyone. They all thought he was antisocial. He felt really had that he couldn't be a part of the family."
Suitor said with her husband constantly in pain, she essentially became a single mom to her five children.
With doctor after doctor giving up on her husband, Suitor started taking matters into her own hands. She started looking up homeopathic remedies and treatments online to see if there was anything that could help ease his pain. Two years into this endeavor, all of her efforts were fruitless.
"My husband told me to just give up," Suitor said. "At this point we had tried 30 remedies, and he just said nothing is working. But I refuse to let this ruin my life. But I just couldn't let my life be ruined. I refuse to let warts be the reason my life is ruined."
Suitor said she firmly believed that if she kept trying and kept praying, eventually God would give her the answer she was looking for.
Soon, her prayers were answered and Suitor got the inspiration her husband needed.
She made her own treatment
Suitor mixed together a cream of her own design and applied it to her husband's feet. Within four days of applying the cream, his pain was gone. For the first time in two years, he could walk without wincing. Two weeks later, the warts were completely gone.
"There was no scarring, no pain, and we believed it was a blessing from heaven," Suitor said.
Suitor decided to call her creation "wart paste".
As time went on, however, she realized that her concoction could multipurpose. Using the same base, she was able to create several different creams and balms to help other family members.
"I made a cold sore lip balm for my daughter, and I created a nourishing balm for my son's eczema," she said. "The list goes on and on. Every time I created a new product it was for a member of the family."
Soon enough, her whole family was thriving and relishing their clear, glowing skin. But Suitor wasn't finished yet. She knew that if her product could save her husband, it needed to be shared.
Creating True Love Skincare
Suitor said it was her husband who came up with the name.
"He said, 'we're gonna call it True Love Skincare because you truly loved me back to health. You love everyone and love people back to health.' That's out love story, We believed in each other."
She said she truly believes that her product was given to her as a gift from God, and it is her responsibility to share it with as many people as possible.
At the end of the day, Suitor remains humble and gives all her praises to God.
"Everything is divine," she said. "It used to feel real, devastating and hopeless. We were constantly told no, that doctors can't help us, and we were so desperate. Sometimes it has to get so bad and the world has to turn its back on you before you realize that it's all God. You have to give him all the glory."