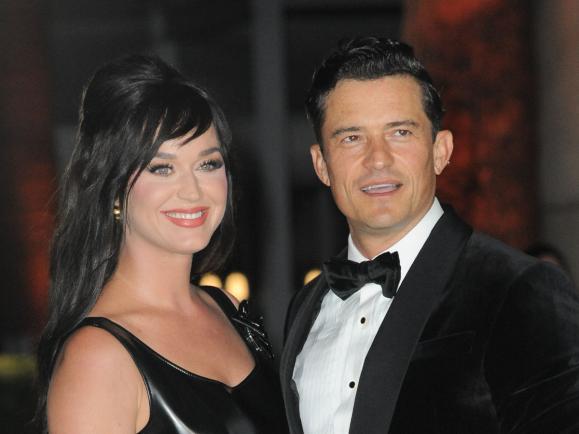 Katy Perry shared how she and Orlando Bloom keep their relationship going in a sincere but silly Instagram post, only weeks after Bloom discusses the challenges the couple sometimes faces. The singer shared pictures of the stylish couple dressed to the nines. Bloom wore a navy blue suit, while Perry donned a sleeveless black and white dress.
Perry wrote, "Orlando and I's initials are O.K. We continuously put in the work to make sure they aren't K.O. Find yourself a partner that will go down to the mat with you and get back up every time. I love you, my fighter @orlandobloom." Bloom echoed Perry's sentiments, commenting, "I love you and our love bombs. Wouldn't have it any other way."
Bloom, who started dating Perry in 2016, discussed their relationship dynamic in a February interview with Flaunt Magazine. The actor said he and Perry, who he called his "baby mama and life partner," have different life approaches because of their opposing backgrounds as artists. Bloom said of their relationship, "We're in two very different pools. Her pool is not a pool that I necessarily understand, and I think my pool is not a pool that she necessarily understands. Sometimes things are really, really, really challenging. I won't lie."
Bloom added that the couple battles with their creativity and emotions but acknowledged that he and Perry are both aware of how blessed they are to be uniquely connected in the way they did at the time they did, and there's never a dull moment. At one point, the couple's differences almost ended their romance, with Perry and Bloom separating in 2017. In a 2020 CBC interview, Perry candidly described her mental state after the breakup, which coincided with the release of her album "Witness."
Perry said, "I had broken up with my boyfriend, who is now my baby-daddy-to-be, and then I was excited about flying high off the next record, and the record didn't get me high anymore. The validation didn't get me high, so I just crashed." Bloom and Perry reconciled, and the couple got engaged on Valentine's Day in 2019. The following year, they welcomed their daughter, Daisy Dove.
After she performed at King Charles III's coronation concert, Bloom shared a heartwarming Instagram post dedicated to Perry, sharing how proud he was of her. Perry also shared videos and photos of her performance, where she wore a gold Vivienne Westwood gown. Perry made another post, referencing her absence on "American Idol" due to her performance, where Bloom again commented saying how proud he was.
Bloom and Perry's relationship is a testament to working to keep your relationship going. Things haven't always been easy for the couple, and Bloom acknowledged that the two are different. They've also broken up a few times, but their love brought them back to each other. However, as long as they continue to work on their relationship, the union will continue to flourish. Let's hope the couple continues to let their relationship grow for their daughter, Daisy Dove.