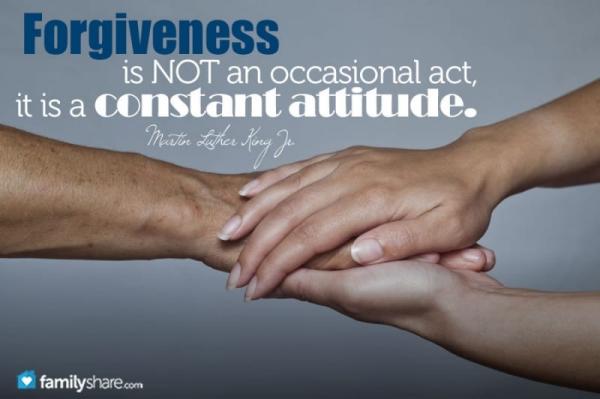 After a recent tragic event in the news, a dear friend posed a poignant question about how she can forgive such evil. In the face of all the evil around us, it is easy to be pulled down by it as well as to question what role forgiveness plays in our own lives.
Here are five ways to let forgiveness heal your wounds:
1. Understand that there will always be evil in this world
Until Christ comes again, it is part of the earthly experience. When Adam and Eve partook of the fruit of the tree of knowledge of good and evil, it enabled them to truly understand goodness, because they knew the evil. There is a song titled "Simple Equation" by the band, Madness. The chorus of this song says in part, "Without low there is no high ... the days that separate the night. It's the shadows by which we'll recognize the light."
Each individual has the gift to choose good or evil. The Old Testament prophet Joshua stated that each must "Choose you this day whom ye will serve." (Joshua 24:15) Because each has this gift of choice, you must allow each to exercise it according to his free will. This does not mean you excuse evil behavior. In fact, each should face the consequences of sin. But, you need to remember that part of our experience on earth will be dealing with the wrong choices of others. Lewis B. Smedes said, "Forgiveness is God's invention for coming to terms with a world in which, despite their best intentions, people are unfair to each other and hurt each other deeply." (Forgive and Forget: Healing the Hurts we don't Deserve)
2. Know everyone desires to be forgiven
The Savior said in the Lord's Prayer, "If ye forgive not men their trespasses, neither will your Father forgive your trespasses." (Matthew 6:15) When you forgive others for their sins against us or others, you are manifesting your discipleship. George Herbert said, "He that cannot forgive others, breaks the bridge over which he himself must pass if he would reach heaven; for everyone has need to be forgiven."
3. Even if you do not feel like saying the words, "I forgive," do it anyway
Corrie Ten Boom was a Dutch woman who hid Jews from the Nazis. She eventually was arrested and spent time in a concentration camp. After the war she went around Europe speaking on forgiveness and the role Christ should play in all our lives. After one speech, she was approached by a former SS man who had been one of her jailers. He went to shake her hand and she found she could not. So she prayed a silent prayer, "Jesus, I cannot forgive him. Give me Your forgiveness." As she took his hand she says an incredible thing happened. "From my shoulder along my arm and through my hand a current seemed to pass from me to him, while into my heart sprang a love for this stranger that almost overwhelmed me." (The Hiding Place, p. 238)
4. Let go of the anger, the grudges and hurt feelings
When you harbor resentments of this kind you are really only hurting yourself and you stunt your own spiritual growth. Dr. Sidney Simon said, "Forgiveness is freeing up and putting to better use the energy once consumed by holding grudges, harboring resentments and nursing unhealed wounds. It is rediscovering the strengths we always had and relocating our limitless capacity to understand and accept other people and ourselves."
5. You must learn to "do good to them that hate you, and pray for them which despitefully use you." (Matthew 5:44) The best example of this occurred in the Pennsylvania Amish country in 2006. In response to a horrific schoolroom shooting in which a man entered a school and shot 10 girls, killing five and injuring the others, the Amish community reached out to the gunman's family, attending his funeral services, inviting them to those of their children and even sharing in the funds sent for the families of the victims. They were able to react in this way because they see themselves as disciples of Christ and want to live his teachings fully.
Joyce Meyer said, "To be full of bitterness and unforgiveness is like drinking poison hoping it will hurt your enemies." When you are unwilling to forgive and to let go of hurt you only hurt yourself. Don't dwell on the negative and evil in the world. Counter it by living your life as Christ would have you live it. When you do this you can "let not your heart be troubled" because your faith in Christ will sustain you through all the trials of life. (John 14:1)