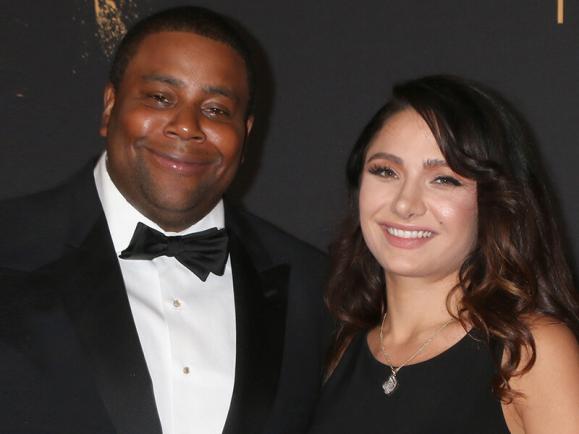 Former Nickelodeon star and SNL star Kenan Thompson has officially filed for divorce from wife Christina Evangaline after 11 years of marriage.
The couple met through Thompson's talent agent Danny Estrada and dated for four years prior to their wedding. They later wed on November 11th, 2011. The ceremony took place in a rented-out aquarium which Christina has said made the night' absolutely magical.'
The now-former couple will share joint custody of their two daughters, Georgia and Gianna. Thompson and Christina will continue to live close to one another in NYC to make co-parenting much easier. The couple was separated for a year prior to the divorce announcement.
Kenan spoke of the joys of fatherhood a few years back, saying "I think the biggest wake-up call is how immediate it is. One day you're not a dad, and then the next moment, you are. You're just a dad from that point on."
"We were married for three years before we had a baby, but it was always in our mind," Thompson continued. "So it was always that plan. The whole family-man thing of it all just kicked right in, and it's just been an amazing ride."
Like many other men, Kenan found himself growing in ways he never imagined.
"And then there were ways that I did imagine that come through, like dropping my kids off at school and what that experience was like, and having things come full circle like that — like watching a big girl do her homework. It's just been amazing."
Kenan also found it difficult to be cool after becoming a dad.
"And definitely, my coolness just got sucked right out of me," he jokes. "I didn't know... I didn't even feel it, but I just immediately started wearing black socks and shorts and just being really corny at stores and over-asking questions about items that are super obvious and in my face."
Kenan and Christina had kept their marriage fairly private from the public but would open up from time to time. When promoting his new show Kenan, the actor told Jimmy Fallon about his wife's reaction to his new show.
In the show, Thompson plays a widowed father raising two girls. Kenan said he "mirrored" many of his own experiences with fatherhood, but many other aspects came down to "creative liberty."
Christina's initial response was, "Oh, so I'm dead?" Kenan assured her that part was just good story writing and had nothing to do with her. He was thanking God at that point that she was still with him.
It's reported that the new show is what caused the rift between the couple. While Kenan relocated to Los Angeles for filming, Christina stayed with the children in New York. The couple just drifted apart, and a year of separation didn't help mend any fences.
Thompson rose to fame in the '90s on the hit Nickelodeon shows All That and Kenan & Kel. The actor joined the cast of Saturday Night Live in 2003, where he became the longest-running cast member on the show. Although he's filmed over 1,500 live sketches, Kenan has stated he's not going anywhere and hopes to be around still for the 50th season. His career is impressive, and Kenan credit's his motivation and work ethic for his success. In Kenan's mind, he just is allowed to do what he loves, so it never feels like work.
Divorces can get ugly, but the Thompsons seem to be handling it with respect for each other and Thompson's public image remains largely unscathed.