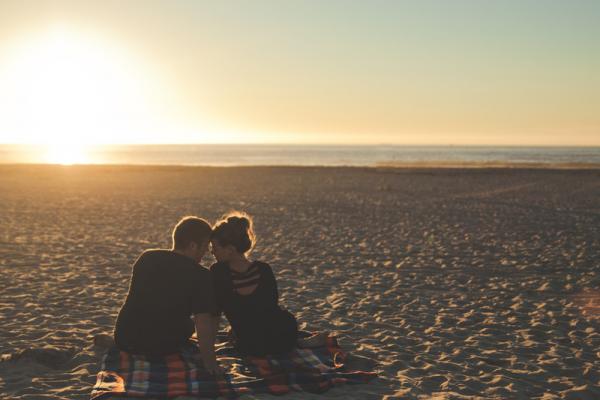 First dates are awkward and stressful. There's no polite way to put it. No matter how much time you invest into making the event enjoyable, there are always questions and a layer of ambiguity. Just like every individual is unique, so is every couple. Mini golf, hotdogs and a fountain drink may sound like the perfect afternoon for one duo; however, for another couple, hiking a trail and sharing a sunset might be ideal.
If you've ever watched the Netflix series, Love is Blind, you may have cringed at the idea of their take on first dates – completely blind folded and isolated in separate pods. However, they're actually on to something. The emphasis placed on communication is a wise decision. It's probably not smart to pair that blind first date with alcohol; nonetheless, the general thought process is a good one.
The secret to creating an amazing first date is communication. However, the challenge is how to communicate. No one is a perfect communicator and everyone has experienced different life events, which impacted the way they communicate. It's important to temper your expectations for the first date. You're not going to know everything there is to know about this person. But, pledging your best effort is a great way to start the adventure.
Before landing on the specifics of a first date, both parties must individually do the following.
Be open minded.
Resist the urge to judge this person. Don't try to fit them into a box. This person is not going to meet your entire wish-list for a future spouse. However, they may possess several qualities that you deem as important. Focus on that and try not to cancel them out because of a few things.
Let go of the past.
No matter how terrible your past relationships have ended, you can't compare those experiences to this first date. It's not fair to the other person if you haven't done the work to let go of your previous partners. So, do yourself a favor, if you're not emotionally ready to date, don't date!
Forget the fairytales.
Hallmark relationships are not real. Cinderella is not real. Rapunzel is not real. Forget the fake relationships you were raised on. Dating is tough and you'll make it tougher on yourself, if you believe that love needs to be a fairytale. So what, your date didn't open your car door. Who cares, if the weather didn't cooperate with your original plans. If you can accept that your story isn't already written, then you'll have a much more pleasant first date.
Now that you know the personal work you must do as an individual, let's go over the questions you should discuss to make your first date awesome.
No surprises.
There's a lot of pressure on men to create an epic first date. Unfortunately, the emotional stress can be exhausting. So, let's take that away. Ladies, don't make your date jump through hoops and bounds to create an ambiance of lust. It's the first date, have fun, and remove the unnecessary stress. Agree that you'll decide as a duo on what to do – this way no one is disappointed and both parties know what to expect.
 The question to ask: Can we plan the first date together? Follow this up with, you don't need to be surprised.
Be open minded.
I know what you're thinking, wait, I was already approaching this with an open mind. However, the instructions above are referring to you as an individual. Now, we'd like you to focus on the first date itself. Have an open mind and be willing to do things you wouldn't normally think of. Dates do not have to be a sit-down dinner and/or a movie. Dates can be going on a walk, exploring a museum, taking a cooking class, or a cup of coffee.
 First dates are meant to collectively take each person out of their element. You can't grow if you're always comfortable. Have fun, on your date and try not to shoot any ideas down.
The question to ask: What would you like to do? Is there a local activity or event you've been wanting to attend?
 Be thoughtful.
It's only the first date but you want to be thoughtful and learn about this person. Find out if this person has any allergies or serious health concerns. You're not asking them for their medical records; however, knowing what they can and can't eat can change the trajectory of your date vision board.
The questions to ask: Do you have any food allergies? Are you a vegetarian? Gluten free? Are there any foods you absolutely hate? Do you have seasonal allergies? (This is an important question, if you're hoping to spend the day outside.) And again, to be clear, you shouldn't read these all at once – make the question process organic.
Find out what they're looking for.
Remember that movie, He's Just Not That into You? First daters tried so hard to have a good time – so much, in fact, they often forget to have a good time. Or maybe they question the other person's good time. You can't read minds; however, you can ask questions and communicate. During your pre-first date chats, find out what the other person is looking for. Are they dating for fun, looking to get married, or indifferent? Make sure your expectations align. And, remember, you cannot change someone's mind.
 The questions to ask: How long have you been dating? Have you gone on a lot of first dates? Are you looking to settle down, if you meet the right person? Are you just looking to just date long term?
Dating can seem a lot like rocket science. However, if you're willing to communicate the dating world can be a lot less rocky and a lot more fun. It's important to remember that everyone brings something different to the table, but you must be willing to sit at the table without preconceived notions and reservations. Sometimes dating can feel impossible and heartbreaking. In those cases, it's important to have a positive attitude and be hopeful for what's to come.