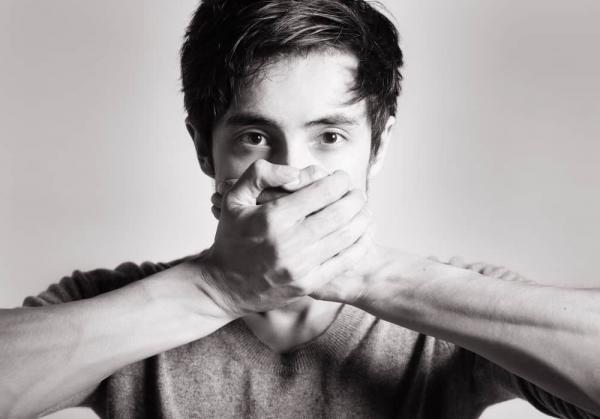 "Man caves" come in all shapes and sizes: a room in the basement, part of the garage, a shed on the side of the house, a tree house in the backyard, a home gym, a den or office.
Location aside, why do you, as a wife, cringe when your husband retreats to his man cave? Do you feel hurt, ignored or unloved? If so, you need to know the secret truth about your husband's man cave.
SECRET
If you let your husband have the time and space he needs in his man cave, then he will come back to you refreshed, renewed and ready to love and serve you (and your kids, if you have any) in more meaningful ways.
Here are three reasons why your husband desperately needs a man cave:
1) He needs some time for himself
You and your hubby both need alone time every now and then - time to recharge, renew and recommit to those things that matter most in your lives. You need that sense of freedom - the freedom to think, draw, plan, dream, set goals and create full and healthy lives for yourselves. Realize that it is healthy for your husband to have freedom to exist as his own person - to tinker, pursue hobbies or just to watch a game without distractions. You enjoy that freedom too - whether from working out, planting flowers in the garden, going out with your girlfriends or reading "Anne of Green Gables" in your favorite chair.
Just think of that sweet husband of yours. He works long hours for meager wages, comes home with a smile on his face, tickles the kids, heads off to teach the cub scouts how to tie knots and then stops to help someone on the side of the road before returning home, exhausted from all his responsibilities and a lack of time with his favorite person ever - you.
What if it has been a long day and you haven't had any time with your spouse? Should you cry or protest when your hubby tells you he's going downstairs for 15 minutes? It would be wise for you to discern your husband's needs and recognize that he literally never has time for himself. At such a rate, he'll wear down quickly and turn into an uptight, stressed old grouch.
Do yourself a favor and send hubby to his man cave for renewal. Even 15 minutes makes a big difference. A successful marriage doesn't mean you have to be together all the time. Rather, it means that you both take care of yourselves while looking out for your spouse and seeking to serve, bless and help him or her. So, look out for your husband and make sure he is getting a little time alone. He will come upstairs renewed, refreshed, ready to talk and ready to love.
2) He craves his own space (he even likes to decorate ... in a manly sort of way)
It doesn't matter so much where your husband's man cave is or what it looks like. What matters is that he has a space to call his own - a space to decorate as he sees fit (since you told him the life-size Darth Vader helmet doesn't "fit" your bedroom decor).
The idea behind the man cave is that your husband has space. It may not be a lot of space, but it's his and he will be protective of it. Just think, you probably have your own space too - a craft room, scrapbooking desk or sewing table. If you aren't into crafting, you probably dominate the kitchen and the bathroom, right? So, let your husband have his own space.
3) He wants peace and quiet (even for just a few minutes)
You like to talk. Admit it. And if you don't like talking, you probably have young kids who do (or, of course, there are the cub scouts). Maybe you have teenagers. Let's not even get started with them. Without a man cave of sorts, your hot hunk-of-a-husband is going to come to a breaking point - too much noise, too little sleep and not enough quiet. He will start to feel drained, exhausted and a bit grumpy.
Send him to his man cave. Let him have some downtime, some quiet time, some thinking and tinkering time. He needs that. Being able to do something (watch a show, write, solve problems, draw, read, play an instrument, etc.) is so much more relaxing and renewing when there isn't noise or interruption 24/7. The nice thing is that quiet time will invite reflection, calm and peace into your husband's life - and those qualities will bless your marriage in return.
He may just need an outlet
Not all men need a man cave per se. Alone time, space and quiet can be found through other outlets like mountain biking or, if your husband is a true quiet seeker, fishing. Some enjoy the camaraderie and renewal of watching a sports game with buddies (as long as their favorite team wins). Other outlets may include camping, hiking, hunting, golfing, reading, shopping, working out, etc. The important thing is to support your husband and encourage him to find time for himself.
What a man cave is NOT
It's also important to understand what a man cave is not. If the idea of a man cave is taken too far, it ends up backfiring - and the consequences are painful. Make sure you and your husband set limits and come to a general understanding of what the man cave is NOT for:
escaping responsibility

ignoring children's needs

wasting time on mindless things (e.g. video games)

viewing inappropriate media (e.g. porn)

drinking or getting wasted

putting friends above family

endless hours alone, avoiding social activities or family outings
A man cave can be a very positive thing for your marriage and for your family. Your husband's man cave can be his sanctuary, a place where he can go for renewal. Remember, after some well-deserved rest in his cave, he'll come back to you regenerated, renewed and ready to be his best self.