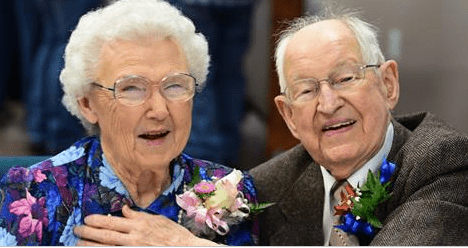 When Harvey and Irma Schluter first heard the news, they thought someone was playing a joke on them. But once they realized the recent Hurricanes Harvey and Irma really did share their names, they were astonished by the coincidence.
A hurricane of a couple
Harvey is 104 years old and Irma will be 93 in November. They have lived through the Great Depression and World Wars, remember the first time they saw an airplane, what the weather was like the day President Kennedy was assassinated, and saw Neil Armstrong walk on the moon.
However, even more impressive than the historic events this Spokane couple has lived through, is the loving effect they have had on over one hundred foster children. The Shluters fostered 120 children-in addition to raising two children of their own-since their marriage in 1942, said The Spokesman Review.
Naming a hurricane
What are the odds of a couple and two major hurricanes having the same names? "I don't know how they've done that, to have a Harvey and Irma," said Irma in a phone interview with the New York Times. "I don't know how that worked out."
It's simply because of a list the World Meteorological Organization maintains to name tropical storms. There are six rotating lists with 21 alphabetical names on each list.
The WMO began using names instead of numbers, coordinates and technical terms in the mid-1900's "because names are... easier to remember, makes it easier for the media to report on tropical cyclones, heightens interest in warnings and increases community preparedness."
The last time "Harvey" was used was 2011. But you probably don't remember it because it, like many tropical storms, was not large enough, destructive enough, or costly enough to make the news. However, the 2011 Harvey was followed by the very destructive Hurricane Irene, which was retired after 2011 and replaced by Irma.
"The only time that there is a change in the list is if a storm is so deadly or costly that the future use of its name on a different storm would be inappropriate for reasons of sensitivity," says the WMO.
Millions of people are still being affected by Hurricanes Harvey and Irma but you can send help from wherever you are. As Irma told the New York times, "You just do whatever you think would be best to do. If you can help someone, then help them."
The real-life Harvey and Irma are confident they made it through 75 years of marriage because of two things: "Each one's gotta have love," Harvey said in an interview with WSFA News. "That and faith, says Irma."
And faith and love will help us aid those affected by the devastating 2017 hurricanes.
Donate to relief efforts for Harvey and Irma here.