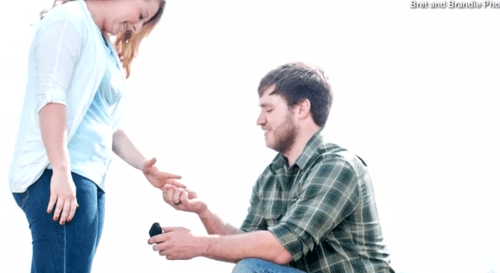 When Ashley Schaus started dating her boyfriend Will Seaton seven years ago, she told him that she and her little sister were a package deal.
Her little sister, Hannah (who is eight years younger than Ashley) has Down syndrome, and the two of them are the best of friends.
"We've done everything together," Ashley said. "I told Will that Hannah and I are the package deal. You had to accept her, love her and include her in everything because she and I would be attached at the hip forever."
Ashley told Inside Edition that she has always planned on becoming Hannah's legal guardian once her parents are unable to take care of her.
Will was more than happy to take the package deal
When Will decided it was time to propose to Ashley, he first proposed to Hannah.
He dropped down to one knee and, with a ring Hannah and Ashley's grandmother had given him, asked Hannah to be his "best friend forever."
"It was the sweetest moment in my whole life watching Hannah be so happy and feeling so special," Ashley told Fox News.
Will has always made sure Hannah was happy and taken care of, but this proposal proved to Ashley that Will truly loves them both.
Hannah said "yes" to Will's proposal, then Will turned to Ashley
After asking Hannah to be his best friend forever, Will then asked Ashley to be his wife. Without a moment's hesitation, Ashley said yes.
When Ashley and Will started discussing the prospect of marriage, Ashley joked, "you never thought you'd have to marry two women at the same time."
She is already planning on Hannah's heavy involvement in the wedding, giving her the title "best sister." "She's more than a bridesmaid but not obviously a bride," Ashley said.
Hannah will even dance with the groom in a special song, "Best Friend" by Harry Nilsson, and wear a white dress for the big day.
She said Hannah will even share vows with Will on the wedding day
"They will make promises to each other to always care for one another, share secrets, make jokes and go fishing, as that's one of their favorite things to do together," Ashley said. "Will and I will share our vows and we all three will walk out down the aisle together."
Ashley said that when Hannah was born, her parents told her she would be extra special because she has Down syndrome. "They were letting me know that I'm going to need to look out for her and protect her," she said.
Ashley said she doesn't know what the future holds for Hannah, but she hopes someday she'll be able to find her very own sweet boy.
"But for now, I am so thankful she got to enjoy that moment that every girl dreams about," she said.
Ashley said that when Hannah was born, she never would have imagined sharing her wedding day, engagement and whole life with her.
"But now, under all the circumstances, I wouldn't have it any other way," Ashley said. "I want Hannah right by my side throughout everything and someday in the future, whenever Will and I start a family, I know that Hannah will be a big part of helping raise our child. She will be a great aunt."