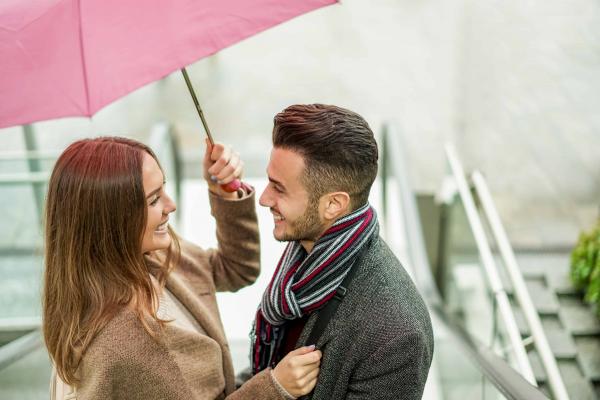 Love is great. It's magical, romantic and lovely, but getting to that point is so hard. When does the dating end? How is it possible to find a person to spend the rest of your life with when you only interact with a handful of people every day?
Finding a person to marry is hard and confusing. The journey can be awesome, but it can also feel never-ending. You might think you've looked everywhere for your true love, but what if you've been looking in the wrong places?
This is where you should be looking
In a new study done by The Knot, researchers found that more people than ever are meeting their spouses online. In fact, meeting a spouse online was the most common way to meet a spouse in 2017.
The study surveyed 14,000 couples who were engaged or newly married, and according to the study, "19 percent of brides reported meeting their significant other through the internet-whether it was online dating (17 percent) or via social media (2 percent)."
Gone are the days of being embarrassed about meeting online, because apparently, the majority are doing it. So download those dating apps and start swiping right, because you never know who you're going to meet or if they'll be your forever love.
Do your research
Before you download every dating app out there, stop and think about your goals. Do you want to be automatically matched with people? Would you rather search on your own? How are you going to know you're completely safe when meeting up with someone?
It's important to do your research when you're choosing a dating app. After all, you won't want to subscribe to a dating service that won't do anything for you. That would be a waste of time and money.
If you don't even know where to get started, here are a few services you can try:
1. Match.com
Match is a popular dating site, and for a good reason. They offer many different features, and they give you a free trial before you go all in. You can have the website automatically match you with people depending on your profile, or you can actively search so you can find exactly what you're looking for.
2. eHarmony
This dating site is perfect for anyone looking for someone within a specific group. If religion is important to you, you can find people of your same religion here. There's an extensive profile you have to fill out, but answering the questions could bring you to your soulmate.
3. Tinder
Tinder is huge in the dating world, and according to Top Ten Reviews, it's "one of the most popular apps ever created." You link your Facebook to your account so it can use the information there to match you with other people.
Swipe left if you're not interested and swipe right if you are, and if two people swipe right on each other, a chat opens up and you can get talking. Super simple and effective if you're casually looking for someone.
4. OkCupid
OkCupid is a great option if you're looking to save some money during your dating process. They offer the widest variety of services without a subscription, and it has an awesome filtering system so you can find exactly what you're looking for.
Of course these aren't the only dating sites out there, but they're a good start. If you're worried about online dating, don't be. It's only becoming more common, and your soulmate might just be waiting for you on the other side of the screen.