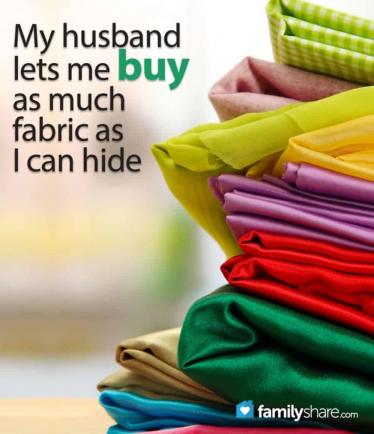 If you're anything like me, you've got more scraps of fabric than you know what to do with. Each of the following 10 ideas are simple enough to whip up in an afternoon with your children alongside you. If your children are still small, let them choose which fabrics to use. If they are older, teach them a few simple sewing tips. That knowledge will stick with them for the rest of their lives. These would also be fun ideas for a craft night with family and friends.
1. Cover a lampshade
My mother-in-law and I were able to transform my entry table lamp, using fabric from old curtains. I used this awesome tutorial from Young House Love and couldn't be happier with the finished result. Along with a brand new lamp, I was able to spend quality time with my husband's mom - bonus!
2. Make a crayon roll
If you've been around little kids lately, chances are you know how much they love to color! You also may know that coloring supplies (especially crayons) tend to get mixed up, broken, and strewn about the house. This darling crayon roll from Say Yes to Hoboken is the answer. Small enough to throw into a diaper bag and easy enough for little hands to use, this is at the top of my to-do list.
3.
Pin cushion
I love this pin cushion for it's ability to store little knick knacks as well. If you've got scraps of fabric lying around, you're bound to have pins and needles that need a new home.
4.
Decorate your c amera strap
Does your camera strap need a little extra love? There are dozens of ways to dress it up. If you're looking for something on the frilly side, this tutorial is great. If you prefer a no-sew method, check this out. And this geometric painted strap wins the award for my favorite.
5. Reusable snack bags
Feel like you go through way too many zip-lock bags? Me too. These reusable snack bags are right up my alley. If you don't have oil cloth around, this tutorial may be just the one for you. This would be a great project to let little one's choose which fabric they would like. It may even increase the chances of them keeping track of it while out and about.
6. A
new makeup bag
uses very little fabric, making it perfect for all of those scraps. My favorite's are found here and here.
7. Do your kitchen towels need sprucing up?
For some great inspiration see this and this. One way to show our love to others is through the giving of gifts. If you've got a bridal shower coming up (or a birthday), these kitchen towels would make excellent gifts and would be a fabulous way to remind them of your love.
8. Diaper strap
I'm always searching through the diaper bag for the one thing it's supposed to carry - diapers. This diaper strap tutorial is a fantastic way to keep the essentials together.
9. Fabric Garland
You can never have too many garlands around (in my opinion.) This fabric garland would be easy enough to DIY.
10. Puppet Theater
And lastly, this shadow puppet theater is sure to impress the young and old alike. The possibilities for creativity are endless.
Now go ahead, rummage through your fabric scraps and make something you and your family can be proud of ... for free.