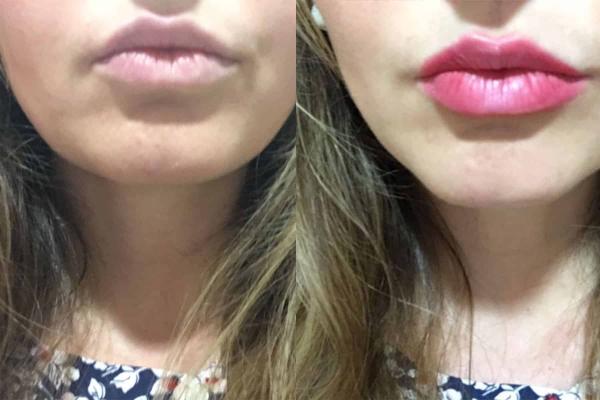 To our dear thin-lipped friends: we understand the struggle. If you want those eye-catching, luscious lips, follow these simple steps. You can find all of these products at the drugstore, and in less than five minutes your whole smile can be transformed.
1. Use your toothbrush to get rid of dead skin
Flaky lips aren't cute. Dry skin will draw attention to itself instead of the fullness of your lips. Make it a habit to lightly brush your lips with your toothbrush after brushing your teeth. This is an easy way to exfoliate and the brushing helps the lips get plumper as well. (But brush gently.)
2. Or use a piece of tape if you don't have brush handy
It won't stimulate the plumpness like brushing, but it will get the dead skin off.
3. Vaseline is your best friend
Always moisturize your lips before putting applying anything else. Vaseline is effective and extremely cheap. Slap some of that magic on and let it absorb for a few minutes.
4. Extend your lips with liner
Carefully outline right outside your natural lip line with a lip liner that's only one or two shades darker than your natural color.
5. Don't use a dull lip pencil
6. Bring the corners up to your natural line
Overdrawing your lips is risky business. The key is to never over draw the corners of your mouth; Otherwise, you'll end up looking like a clown.
7. Blend the lip liner with the rest of your lips to avoid a stark line
7. Or if you hate lip liner, emphasize your lip arch by drawing an x
A more defined cupids bow (the name of your lip arch) makes your lips look more luscious.
8. Use lighter colored lipstick
Dark lipstick colors are fun, but if your focus is on making your lips as full as possible, a lighter nude color is your best option. Dark colors can flatten your lip shape.
9. Put bronzer right under your lip
Blend a thin line of bronzer right underneath your bottom lip to give a shadow illusion.
10. Fill the rest of your lip in with a matte lipstick
If you don't have matte, you can put a light finishing powder over your glossy lipstick to get a matte finish.
11. Put highlighter, shimmery eye shadow or lip gloss in the center
This is a great effect to emphasize the largest part of your lips. Put the gloss in the very center of your lip on the top and bottom.
12. Line your lip line with concealer afterward
After it's all applied, line the outside of your lip line with a thin layer of concealer. This will help it pop even more.