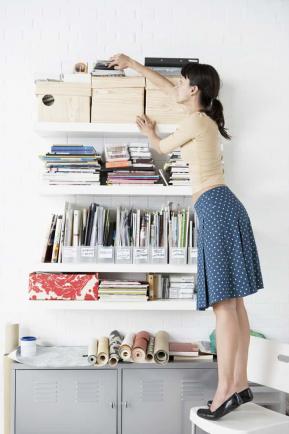 Staying organized isn't easy. With today's busy families being always on the go, it seems staying organized is an uphill battle. And with the family budget under pressure from so many sides, cheap ideas for home organization are welcome.
Here are some ideas that are not only inexpensive, but are easy to do as well.
Collect small containers. Small jars, like the ones that contain baby food or jam, can be washed and reused to organize many small items like cotton swabs, bobby pins, barrettes, thumb tacks, or paper clips. They can also be used to hold cooking spices, which can be purchased in cheaper large containers, and then transferred into the smaller jars. The original containers can be stored out of your way until you need a refill. Be aware that spices lose their freshness and taste over time.

As you read a magazine, rip out articles, recipes or pictures that interest you. Keep these in a file folder and recycle the rest of the magazine. This way, if you remember something that sparked your interest from an old issue, you won't have to dig through a stack of magazines to find it.

Bring organization to the linen closet by tucking all the linens for one bed into a single package. Just put the fitted sheet, flat sheet, and one pillowcase inside the second pillowcase.

When you hang up your clothes after wearing or washing, put them back in on the far right side. Gradually, as you wear and rehang your clothes, it will be obvious which ones you never wear, as they will pile up on the left side of your closet. This will make it less of a chore when it comes time to thin out your closet.

You know those plastic zipper pouches new sheets come in? These are great for containing and storing many different things. For example, try organizing your cloth napkins by putting your sets each in their own bags, labeled with how many there are. Unfinished knitting or sewing projects can also be stored in these pouches, thus keeping everything together and preventing your needles from getting lost.

Keep all of your important information in one place so it's easy to find. You can do this by making a family information binder, with tabs separating different sections. Include important phone numbers (school, family members, doctors, etc.), social security numbers, birth and marriage certificates, etc. For added protection, store the binder itself inside a fireproof safe.
The key to thrifty organization is resourcefulness. Always keep your eyes open for new ways simplify your techniques. Remember, if your system is too complicated, it will probably be hard to maintain when life gets hectic.