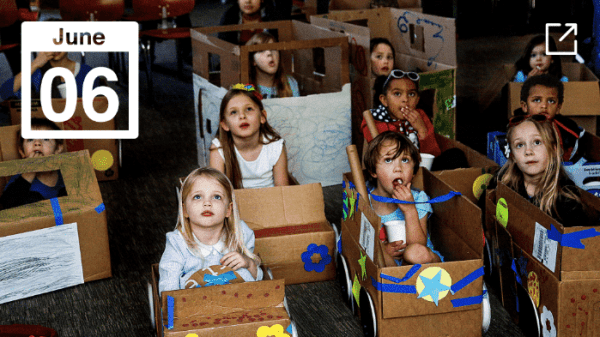 On this day in 1933, the first drive-in theater opened in New Jersey. It only cost 25 cents per car and 25 cents per person to see "Wives Beware." But since the theater fit 400 cars, we're guessing the proprietors did well.
Required Supplies
A cardboard box for each member of the family. (Save money by going to a local retail store and ask if they have boxes they are wanting to get rid of.)
Markers, Stickers, Paint (Used for decorating your car. Makeyour dream car.)
Scissors or box-cutters (Adult supervision recommended. Used for shaping your car.)
Instructions on how to cut the box into a car
Family-favorite snacks
Your choice of movie
Activity Directions
Using the scissors or box-cutters each person can shape his/her own car.
Use these templates - Maserati, Batmobile, Volkswagen Bug - or create your own.
Decorate it with stickers, paint, or markers. No big deal.
Park in your family room, grab some snacks and enjoy the drive-in movie experience.