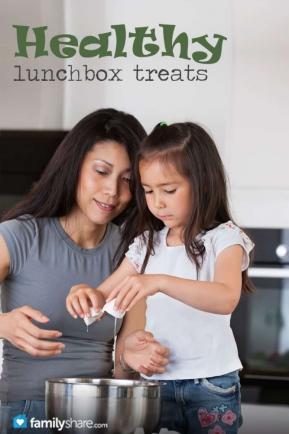 Healthy Back-to-School Lunch Box Treats
If you have ever enjoyed eating lunch at school with your children, you know first-hand that out of the watchful gaze of parents, they all automatically go for their desserts first. School is long and kids look forward to dessert all day. Why fight it? The trick is to make their dessert choices as healthy as can be. Here are two healthy whole grain recipes to put in their back-to-school lunchboxes and feel good about making both parent and child happy.
Whole Wheat Brownies
1 cup melted butter
7 Tablespoons cocoa powder, unsweetened
4 eggs
1 scant cup white sugar
1 scant cup brown sugar
1 1/3 cups whole wheat flour (For fabulous results use King Arthur's white whole wheat flour, available at most health food and some grocery stores)
pinch of salt
1/2 teaspoon baking powder
2 teaspoons vanilla
Optional variations, add any of the following: 1 cup nuts like walnuts, pecans or almonds; 1 cup dried fruit like raisins, blueberries, or cranberries; 1 cup chocolate chips (or carob chips, if you really want to be healthy).
Preheat oven to 375°. Melt butter in a glass measuring cup or bowl for 5-10 minutes in the oven. Remove and add cocoa powder. Allow to cool slightly.
Beat eggs in a separate bowl. This is a great opportunity to get your children involved in preparations, allowing them to do the mixing with a fork or wire whisk. They love to eat what they've helped to prepare. Add sugar and vanilla and mix well. Add slightly cooled butter/cocoa mixture and stir again until blended. Add flour, salt and baking powder and mix well. Fold in optional nuts, dried fruit and/or chocolate chips.
Pour into greased 8 x 11 pan. Bake 30 minutes. Let cool 10 to 15 minutes before cutting. Enjoy fresh or save some for future lunches by freezing individual portions in baggies that can go straight from freezer to lunchbox. These will help keep the lunch cool and will defrost by lunchtime.
Chocolate Whole Grain Muffins
3 cups flour (You can use all whole wheat flour, white whole wheat flour or the lighter specialty variety of whole wheat pastry flour. As another option use 1 1/2 cups white all-purpose flour combined with 1 1/2 cups whole wheat flour for a lighter but a bit less healthy muffin)
6 Tablespoons cocoa powder, unsweetened
1 1/2 cups yogurt
1 cup water
Mix together, cover and refrigerate overnight or 12 to 24 hours. Again, here is a perfect opportunity to get your children to help with the mixing when nothing can be messed up!
The next morning, add:
1 teaspoon salt
2 teaspoons baking soda
1/2 cup sugar or maple syrup
2 beaten eggs
2 teaspoons vanilla
3 Tablespoons oil or melted butter
Mix well with an electric mixer. Fill greased or papered muffin cups and bake at 375 for 15 to 20 minutes, until a toothpick comes out clean. Freeze some muffins in individual baggies for future quick and easy lunchbox desserts.
For optional variations, fold into the final batter:
1 cup blueberries fresh or frozen
1 cup dried blueberries or cranberries
1 cup raisins and 1/2 t. cinnamon
1 cup chocolate or carob chips
Sneaky but healthy variation for both of the above recipes
If your kids are low on vegetable consumption and you want to be a really sneaky health-promoting mom, try adding 1/2 cup of roasted beet puree to either of the above recipes. Roast beets in the oven for dinner the night before. Peel beets and place in lidded glass bowl with 1/4 to 1/2 cup of water. Bake at 375° for 45 to 60 minutes, depending on the size of the beets. When done the beets will easily stick through with a fork. You can bake beets and russet potatoes at the same time in the same oven (not in the same glass bowl of course) for two quick and easy dinner items. After dinner or the next day, take the leftover beets and puree them in your blender to use in the chocolate brownie or muffin recipe. The sugar and cocoa powder will camouflage the beet flavor and give the brownies and muffins a slightly red velvet color. Your kids will never know they are eating beets if you don't tell them.