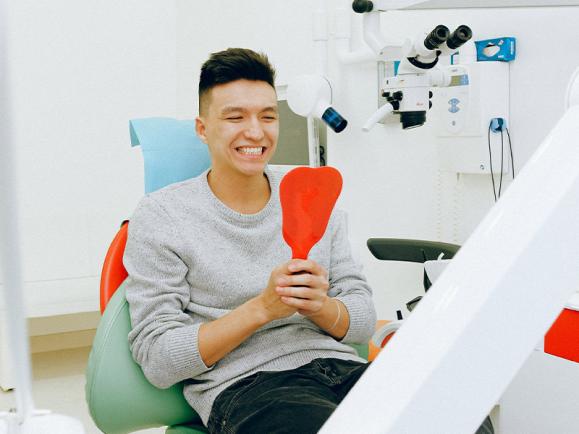 These products were selected by StackCommerce, which created these articles. The products are not endorsed by the FamilyToday editorial team. If you buy something through these links, FamilyToday may get a small share of revenue from your purchase.
Staying healthy is a hot topic these days, but keeping your teeth and gums healthy should always be part of the conversation. We teach our children songs to sing in their heads while they brush their teeth to make sure they brush long for enough, but do we give our own pearly whites the same attention?
The good news is that getting a deep clean doesn't only have to happen at the dentist's office and it doesn't need to be expensive either. You can take better care of the only set of adult teeth you'll ever have with the AquaSonic Black Series Toothbrush.
Every mouth deserves more than a flimsy $2 toothbrush and other electric brushes don't even compare, according to reviewers. The AquaSonic Toothbrush is capable of removing up to 10 times more plaque than your average toothbrush, and for a limited time, it is marked down to $39.99 -- a 71 percent discount -- making this the perfect opportunity to get your whole family on the right track to a healthier smile.
Regularly $139, the AquaSonic Black Series Toothbrush provides the deepest clean with a 40,000 VPM motor while dissolving stains and whitening your teeth at the same time. Not flossing as many times as you promised the dentist? Give your gums some TLC and improve gum health in as little as one week.
The AquaSonic Toothbrush also has four modes to fit everyone's preferences. You can choose the whitening mode to up your smile for Zoom meetings or soft mode for your kids with sensitive gums. Choose the cleaning or massage modes for an extra deep clean to make you feel like you just came home from the dentist. And with eight Dupont brush heads and a travel case included, your smile will stay in top shape for the foreseeable future.
You and your family deserve the best when it comes to your health and keeping your teeth and gums healthy has never been easier. Start at home with the AquaSonic Black Series Toothbrush.
Image Credit: Pexels