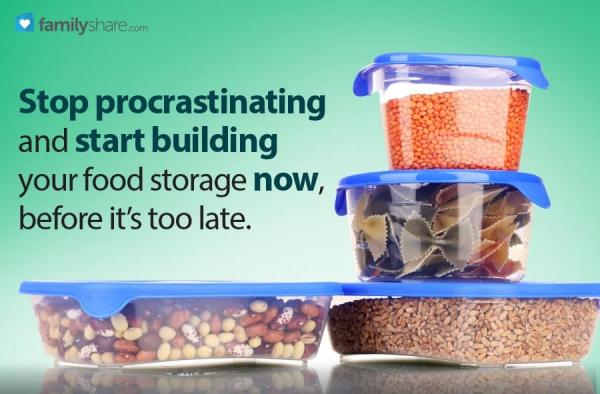 Having food storage in case of emergency isn't just a good idea - it's a genius idea! You never know what might happen, from floods to food shortages to blizzards. It's always smart to be prepared. However, to really be ready for the unexpected, you'll need more than a sack or two of flour and a cupboard full of canned food. Effective food storage should include enough food for everyone in your family for anywhere from three months to a full year. The amount of food needed for that amount of time won't just require some investment, it'll require space.
If you live in a three story house with a four car garage and a basement, storing extra food is easy. But for the rest of us, especially those of us who rent, finding extra space for food storage is a pain. It probably feels like you have just enough room for what you already have, let alone several hundred pounds of food. Luckily for you, there are some creative people out there who have found ways to store food even in a tiny apartment. Maybe some of these tricks will work for you.
Go beneath the bed
it's not just for monsters. Instead of letting that prime real estate go to waste, shove aside the mothballs and store boxes of food or #10 cans beneath your bed. If your bed frame is too short, try jacking it up a little. You can buy sturdy plastic or wood posts to put beneath each leg to give you the clearance you need.
Create your own furniture
it's easier than it sounds. Some smart families have figured out that by stacking boxes of cans and then covering the stacks with tablecloths or sheets, you can create your own nightstands and end tables. It'll save you money on buying real furniture too.
Utilize your foot rests
you know, those pieces of furniture that don't do much more than get in the way when you're walking across the room in the dark. There are coffee tables that can double as storage chests and footstools with hollow interiors. Don't let all these handy nooks and crannies go to waste.
Put a false floor in your closet
no construction required. All you have to do is clear out the bottom of your closet, fill it with a layer or two of food storage, and then place some planks across the top to make a flat surface. Not only do you not have to bend down so far to reach your shoes, you have also created an ingenious storage area.
Food storage is one of those things where it's easy to think, "I'll do it later when I have more time, more space, more money ..." but we all know the day when you have enough of all three of those may never arrive. Stop procrastinating and start building your food storage now, before it's too late.