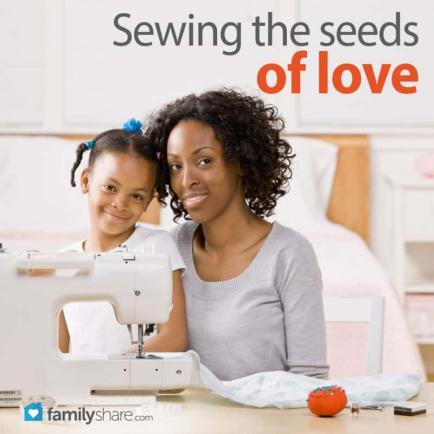 We live in a world where making inexpensive clothes for our children is difficult but not impossible. Most clothing is made overseas where labor and materials are cheap, and quality is not a major priority.
This creates a problem, yet also provides a remedy for those of us who enjoy sewing. Before you decide to sew or not to sew, let's look at a few facts.
Cons
The cost of good fabric, patterns and sewing notions are up.

Unless it is a high dollar item you are making, you can purchase it for less than you can buy the fabric, thread, zipper or buttons.
Pros
Home crafted clothing is normally better quality and will last longer.

Sewing for yourself allows a much wider variety of style and better fit.

Modest clothing is becoming impossible to find from pre-teen on up. What are your standards in clothing? Some things are worth more than the expense.

The personal satisfaction of making something with your own hands is invaluable for your self-esteem. You cannot put a monetary value on a sense of accomplishment.

Your children learn the love and skill of sewing from watching and working with you. This can be a creative outlet as well as a necessary skill.
There was a time in my life when we had eight children living at home. We had very little income. Winter was coming and everyone had a coat except one young daughter. There was no money to buy a coat, but I had lots of scraps and extra batting from previous sewing projects. I made my fabric by sewing scraps of fabric together and sandwiched it together with the batting and backing to make a piece large enough to cut out a coat for her. She had a Joseph's coat-of-many-colors and loved it. She was very proud of her coat. It wasn't until years later that she realized her special coat was made out of necessity. All she knew was the love that went into making it for her.
There is a way to make beautiful, inexpensive clothing.
Fabric
Check the discount stores. They have inexpensive fabric as well as higher-quality fabric. The cheaper fabric is normally looser woven and will not stand up to long-term use, but the lighter weight fabric may be just what you need for those summer outfits.

Often you can find discounted fabric at your local fabric store. Many Internet stores offer coupon codes that make fabric more affordable.

In our throw-away world you can find good fabric in clothing at yard sales and second hand shops. Some clothing is donated after being worn only a couple of times. Search for dresses and skirts that have enough yardage to make your project. Sheets are large pieces of fabric at a lower cost. Be picky; find something pleasing to your eye and big enough to do what you want.
Patterns
Some on-line fabric stores have pattern sales for 99 cents each. Keep informed and sign up for sale fliers or newsletters. Used patterns, or older uncut patterns can be found for a fraction of the cost of new ones.

Many ready-made items can be altered into something totally different from the original. You can find a lot of re-purposed clothing ideas on the Internet, especially Pinterest.

If you find an article of clothing you like in the right size, take it apart at the seams and use it for your pattern.

If you have friends who sew, trade patterns.

You can also find lots of free patterns on the Internet. Sites such as allfreesewing.com provide free patterns and tutorials for you at no cost, other than printing.
To sew economically takes preparation and planning. If you make sewing a way of life, much of the preparation is already done.
Sewing can fill an inner need and desire and fill your spirit with joy. Especially when you sew for your children, don't hesitate to sew the seeds of love.