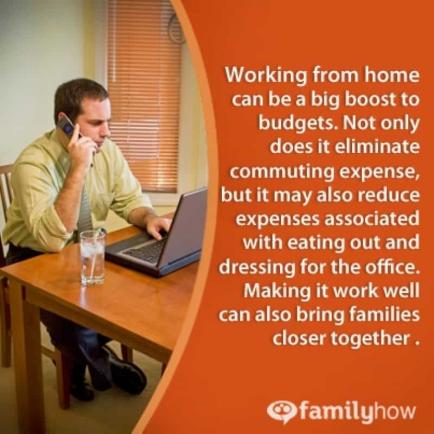 If you are one of the increasing numbers of people working from home, whether you telecommute to work with a Fortune 500 Company or you provide a freelance service from home, building good working habits to foster success in your career and as a parent can be tough. Here are some ideas to help you master your domain.
Find a place to work
One key is certainly finding a place to work and teaching your family to respect the time you spend in the place. There should be no other signal needed to your family that you don't want to be bothered than you are in your "office." This can work even if your office is just your favorite chair in the living room and you're working on your laptop.
Establish hours
It is easy to establish hours that you'll be working; it is a lot harder to actually work those hours. It requires you to be disciplined about starting work on a schedule -even if there is no one around to enforce it. It also means that you have to quit work to "come home" and be with the family on schedule.
Set phone rules
You and your family need to know how to optimize the use of the phone. Even if you have separate lines, you may need to have a system or signal to indicate when making noise is not acceptable. While working at home is commonplace, it is still distracting to be on a phone call about work when children are whining for attention, playing loud music, or using noisy appliances.
Take breaks
You and your family will be happier if you emerge from your office once in a while for a respite. Use the time to catch up on what's going on around you. Be sure to share lots of hugs and kisses. These bursts of family time can replenish their emotional batteries - and yours!
Make fridge rules, too
Working at home features another distraction that is absent from most offices - a refrigerator full of all of your favorite food. Make sure that you set rules for yourself so that you don't eat your way into a larger size, blowing your budget at the same time. If need be, have your spouse help to enforce the rules.
Get childcare
Depending on your employer, you're being paid to do something other than care for the children. If your kids are still at an age where they require care, be sure to make appropriate arrangements. If that can happen in your home where you can still have interaction with them on your breaks, you'll still get many of the emotional benefits of working at home without all the distractions.
Working from home can be a big boost to budgets. Not only does it eliminate commuting expense, but it may also reduce expenses associated with eating out and dressing for the office. Making it work well can also bring families closer together.