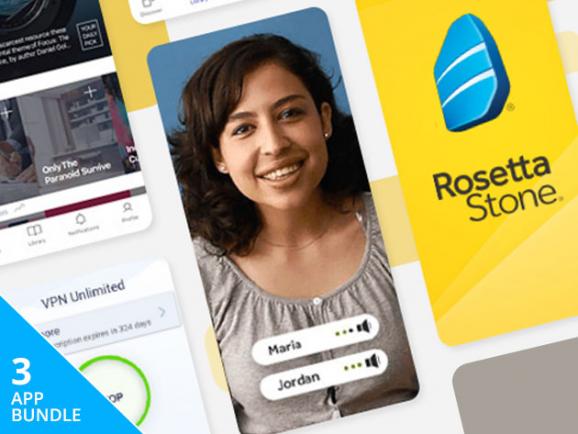 These products were selected by StackCommerce, which created these articles. The products are not endorsed by the FamilyToday editorial team. If you buy something through these links, FamilyToday may get a small share of revenue from your purchase
We're living in strange and uncertain times. Due to an obnoxiously persistent pandemic, a startlingly large number of people have been forced to abandon their familiar office and work from the comfort of their own home, and it's looking like this is going to be the new normal for the foreseeable future.
So why not make the most of an admittedly odd situation and expand your mind while you're stuck at home? The Social Distancing Lifetime Subscription Bundle Ft. Rosetta Stone will help you learn new languages and expand your knowledge on a range of exciting topics, and it's available for hundreds of dollars off at just $199 right now.
This three-part bundle comes with lifetime subscriptions to the award-winning Rosetta Stone platform, the 12min Premium Micro Book Library, and KeepSolid VPN.
With your unlimited Rosetta Stone subscription, you'll be able to learn up to 24 languages through intuitive and engaging exercises that make it easy to retain and use your new knowledge. This subscription even comes with an advanced speech-recognition engine that you can use to compare your accent to native speakers, and it's easy to track your progress as you go.
While you're tackling your new languages, you'll also be able to power through important books on interesting and pertinent topics thanks to the 12min Premium Micro Book Library, which grants you unlimited access to a wide range of content on subjects ranging from productivity and finance to leadership and beyond.
Finally, this bundle will help you safeguard your data and privacy while you use all of your devices, thanks to a lifetime subscription to KeepSolid VPN Unlimited—a best-selling service that hides your IP address and blocks nefarious hackers from accessing everything from your browsing history to your banking information.
Expand your mind and protect your privacy with the Social Distancing Lifetime Subscription Bundle Ft. Rosetta Stone while it's available for just $199—that's hundreds of dollars off its usual price today.
Prices are subject to change.
Image Credit: Rosetta Stone