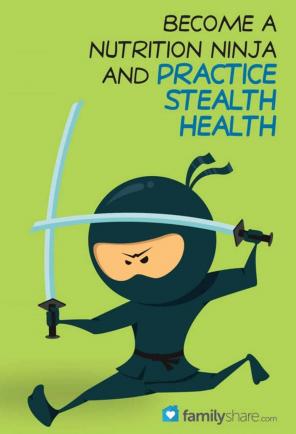 You're a mom or dad, grandma or grandpa, aunt or uncle, babysitter or caregiver, but you can also be a nutrition ninja. You have the ability to make food more healthful without compromising taste. You can slowly take out bad stuff and replace it with better, changing your family's food preferences. How? By practicing stealth health. Here are a few simple ways to begin.
Reduce sugar
The American Heart Association recommends just 100 calories of added sugar per day for women and 150 for men. Too much sugar is contributing to obesity and diabetes in the US and throughout the world.
Most of your regular quick bread, cookie, cake and brownie recipes call for sugar. Did you know you can reduce the amount of sugar in the recipe by up to one half without compromising taste? Start with 25 percent less sugar the first time you try this. If it is still plenty sweet, you can reduce it by 30 percent the next time. You'll know when you've taken out too much sugar because your finished product will be bland. Next time, add in a bit more and make a note on the recipe to remember the new reduced amount.
Half the fat
Oil, butter, shortening and margarine are common fats used in recipes. The American Dietetics Association advocates having most dietary fat come from unsaturated sources. Too much saturated fat can cause heart disease.
Replace some or all of the fat in recipes with applesauce, light sour cream or plain nonfat yogurt. For example, in a muffin recipe that calls for ½ cup of vegetable oil, I will use ¼ cup of oil and ¼ cup of applesauce. I find little difference in texture. If you replace all of the oil with applesauce you will have a different texture, which your family may or may not notice.
Sneak in vegetables
Vegetables are amazing foods. You can eat as many of them as possible without any ill effects and with little caloric intake. They pack a mighty nutritional punch and stealth health ninjas love them. Sneak them into as many foods as possible.
Carrots in spaghetti sauce add a nice flavor. Pumpkin puree goes well in baked goods as well as waffles and pancakes. Grated zucchini can be added to baked goods and pasta dishes. Add cauliflower to creamy pasta dishes. Spinach in smoothies is quite popular. Although the green color is noticeable, it takes a lot of spinach for the taste to come through. Add texture and healthy fat to smoothies by tossing in avocado.
Use egg whites
Although eggs are very healthy and an amazing source of nutrition, they aren't particularly low in saturated fat. As Harvard Medical School reports, most people can safely consume one egg per day, while being mindful of saturated fat intake.
If you are concerned about saturated fat, you can use egg whites instead of whole eggs in most baking recipes without any problem. I often use one or two whole eggs and then several egg whites to make scrambled eggs for my family. Using some yolks keeps the color yellow, as expected, but the fat content is reduced per serving.
Go whole grain - slowly if needed
A whole grain diet is beneficial to your health in many ways. The USDA lists several benefits. Chief among them is lowering the risk of heart disease and managing weight.
If your family is used to eating the white versions of foods like bread, bagels, pasta, rice and tortillas, it may take some patience to switch to whole grains. Try mixing half whole wheat pasta with regular pasta. If you are careful with your cooking times, you can cook them in the same pot. Do the same with rice. Learn how to make homemade whole wheat bread. It is hard to resist right out of the oven. Switch from quick oats to old-fashioned, or try steel-cut oats.
Exploit weakness
Everyone's hungry but dinner's not quite ready? No problem. Put out a tray of freshly cut raw vegetables with hummus. Want to get your kids to try a new grain like quinoa, farrow or amaranth? Serve it with some of their favorites and have them help cook. They still might not like it, but don't give up!
I like to let kids choose which veggies go in the garden and help with weeding and harvesting. They enjoy eating food they grew, especially the snap peas, blueberries and strawberries. For family movie night switch out microwave popcorn for real popcorn and serve sparkling 100 percent fruit juice (like Izze) instead of soda. The kids will be getting a serving of fruit and also a whole grain.
Consider making your favorite treats
Processed foods are convenient. Some are healthy, but too many are high in sodium, as the Centers for Disease Control points out. Fortunately, there are great recipes out there for look-a-like treats including peanut butter cups and Pop Tarts. Look for recipes on how to make your favorite treats with real food ingredients at home. We recently made delicious soft pretzels. The whole family enjoyed them.
Once you start being a nutrition ninja, it will become easier and more fun. You will enjoy the stealth health challenge and think of new ways to change your habits. Since I've adapted my cooking with these methods, my kids eat more fruits and vegetables, less sugar and more whole grains. The only downside is that milk chocolate has become too sweet for them, so they want my dark chocolate. I guess I'll have to learn to share, or hide it better.