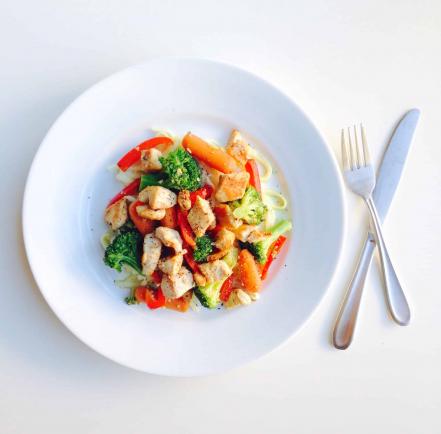 This dish my friends is what we will all be eating in heaven, I'm convinced. It was so divine!There are so many things I love about this dish. First of all it's so easy!
When it comes to making dinner I prefer a quick, easy meal that everyone loves
I'm sure you feel the exact same way. No one has hours to spend in the kitchen - especially if you have little kiddos pulling at your legs to come help them get their toys down, go potty or spin around in circles because, apparently that's a super fun activity for a 2-year-old.
This dish from start to finish takes about 30 minutes, that's it! I will take you through step by step of making this delicious dinner, or you can see the recipe list version at the bottom.
There are 3 main parts to this dish
1. The rice noodle sauce
2. The chicken
3. The vegetables.
You can start in any order (or do them all at once), but we'll start with the sauce for now. These are the things you'll need:
Sauce
Chicken broth Rice Noodles Canned coconut milk Curry powder Ground ginger (not pictured) Salt (not pictured)
Rice noodles cook similarly to pasta, but don't have any gluten in them, which is perfect for all those sensitive tummies out there.
Bring 6 cups of water to a boil. Once boiling add about half of a 14 oz. package of rice noodles. Boil, and stir occasionally until soft and tender to the bite. They take about 5-7 minutes to cook. Once cooked dump the noodles into a strainer to drain the water.
Next, add your coconut milk, chicken broth, curry, ginger and salt. If your pot isn't big enough (like mine) you can transfer your noodles to a sauce pan and then add the other ingredients. If you're lucky you'll have a big enough pot and won't need to use another pan thus creating a bigger mess to pick up later. Ha! My birthday is coming, my birthday is coming...
This is what the sauce should look like once it's done! Mmmm I want to eat it all!
Next, cook the vegetables
You can use whatever vegetable you'd like. That's another beauty of this dish. It's easily adaptable so everyone can be happy. This time I used:
Broccoli
Red bell peppers
Carrots
You can also use snap peas, cabbage, onion, green beans, mushrooms, spinach, kale, squash, zucchini and any other vegetable your little heart desires.
In a frying pan add a couple tablespoons of avocado oil to broccoli and set heat to medium. Season with a dash of salt and pepper, add 1/8 of a cup of water and cover with the lid to let the broccoli steam. While this is steaming you can be doing the other vegetable prep: washing, chopping and dicing.
After the broccoli is easily pierced with a fork, remove it from the pan and set in a bowl to the side. Add your red peppers with a little water and cover with the lid. When tender, remove and set aside with the broccoli.
Next, add your carrots. (Is this not the CUTEST little dancing/running carrot?Carrots can be "cute" right?)
Add a couple more tablespoons of oil, along with the minced garlic and carrots. Add a little more water, cover with the lid and steam until easily pierced with a fork. When tender, set aside with the other vegetables.
Chicken
3 boneless, skinless chicken breasts
You're almost done! Cut each chicken breast into 1 inch cubes, drizzle with a little bit of avocado oil, and season with kosher salt and some freshly ground black pepper.
In the same pan that the vegetables were in, heat 1 tablespoon of oil with heat set to medium high. Once the pan is hot add the chicken and sear on one side until golden brown. Flip and sear the other side, then turn the heat down to medium and cook until chicken is cooked through. This should only take 3-5 minutes. Once the chicken is done, now all you have to do is put it all together on a plate or in a bowl and enjoy!
Here is the list version:
Tai Chicken Coconut Curry
Author: Shanell For Real Prep time: 10 mins Cook time: 20 mins Total time: 30 mins Serves: 4
Ingredients
3-4 large boneless skinless chicken breasts

1 tsp. kosher salt

1/2 package rice noodles

1 Can coconut milk

1 C chicken broth

1 tsp. curry powder

1/2 tsp. ground ginger

1/2 tsp salt

6 Tbsp avocado oil (divided)

1 lb broccoli florets

1/2 red bell pepper

1 C baby carrots

3 cloves minced garlic

salt and fresh ground pepper to taste
Instructions
Defrost chicken if frozen, cut into 1 inch cubes, drizzle some avocado oil over cubed chicken and season with kosher salt and pepper and set aside.

Bring 6 cups of water to a boil. Once boiling add the noodles and boil until soft (should cook like pasta.)

Once noodles are soft, drain water from pot, move noodles over to a sauce pan and add the canned coconut milk, chicken broth, curry powder, ginger and the 1/2 tsp. salt. Set aside.

Add 2 Tbsp. avocado oil to a frying pan, set heat to medium, cover with lid and steam broccoli until soft when pierced with a fork. (You may need to add a few Tbsp of water to help with the steaming process.)

Once soft, remove and set aside in a bowl.

Add another Tbsp. of oil and place red bell pepper in the pan. Cover and steam until tender. Remove from pan and set aside with the broccoli.

Add another Tbsp. of oil, carrots and garlic to the pan, cover and steam until fork tender.

Remove from pan and set aside with other vegetables.

Add another Tbsp of oil to the pan and set the heat to medium high. Once heated, add the chicken. Let brown on one side, then flip to the other. Cook until both sides have a nice golden look and chicken is cooked through.

Now plate it! Place noodles on bottom, then add your veggies and chicken. Season with additional salt and pepper to taste.
This recipe was originally published on Shanell for Real where you can find the printable recipe. It has been republished here with permission.