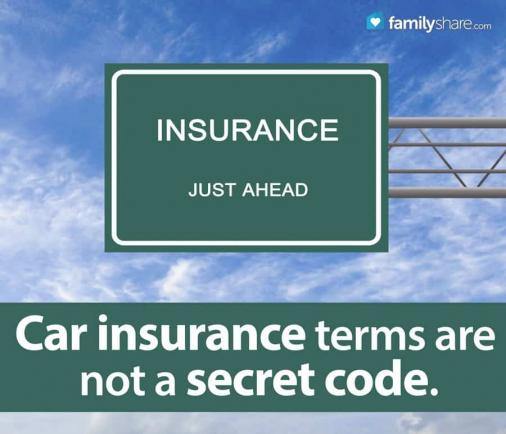 Even if you have car insurance, your coverage may not be adequate to protect you and your family in case of an accident. Car insurance terms often seem like a secret code that you can't understand and hope you'll never need.
There are two key parts to your insurance: liability insurancethat provides financial help to other people when you cause the accident and collision and comprehensiveinsurance that covers your car from accidents, broken windows, theft, etc.
There are a few key terms that you need to fully understand.
Liability limits
Every state sets minimum limits to define how much liability insurance you need. The limits are reported as three numbers - your agent may have mentioned them to you when you bought your policy. In California the minimum limits are 15/30/5, meaning that you must have bodily injury coverage of at least $15,000 per person and $30,000 per accident, plus at least $5,000 for property damage. If you buy only the minimum required policy you may be in trouble. If you cause an accident with anything other than a 1972 pick-up truck with bolted on wooden bumpers, you'll be paying for someone else's car out of your savings account - or future earnings. If more than two people were in that car and needed more than $30,000 in care, again, you'll be getting the bills.
Deductibles
The deductible is the portion of the damage that you are required to pay. Deductibles don't apply on the liability insurance; they only apply to you and your car. If you back your car into a concrete pillar in a parking lot (I use that example speaking from experience) you'll be responsible to pay the deductible. The insurance company will be responsible for the rest of the cost of the repair.
Saving money
Your policy gets cheaper as you retain more risk and ask the insurance company to take less risk. You can do this in two ways. You can raise your deductible or lower the liability limits.
Raising the deductible
The ultimate way to save money is to not buy collision and comprehensive insurance at all. If you drive a clunker, as I've done at times over the years, you may be able to afford to assume all the risk of repairing or replacing your car if it is damaged or stolen. If you drive a nice car - anything but a clunker - you'll want to have collision and comprehensive insurance, but you can choose to have a higher deductible.
Lowering the limits
Many people buy only the state-required insurance limits. This is extremely risky. Not only are all of your current assets at risk, but so is your earning capacity. You can be forced to pay damages from your income for years into the future. Raising your liability limits above what most people in your state buy is good practice for anyone who has a good job or good savings. If you are focusing on frugal living and providing for your family, you likely have a home with equity, college savings and other assets. All of these are at risk. Insuring yourself with unusually high limits is remarkably inexpensive - once you're past 30 - if you have a good driving record. The odds of your having a major accident with lots of injuries and expensive property damage are low. The insurance company understands this and they won't charge you much for taking this risk off your hands.
As a general rule, when buying insurance, it makes sense to pay others to take risks you cannot afford to pay yourself. Similarly, it doesn't make much sense to pay someone else to take risks you can afford to take. So, raise your deductible to a level you can afford and use the premium savings to increase your liability limits to cover the risks you can't afford. Talk to your insurance agent today to be sure you have the coverage you need.