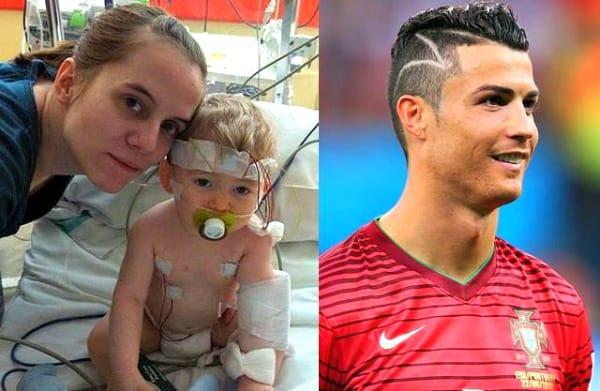 On June 22, 2014, the United States faced Portugal in the World Cup Brazil and the game ended with a 2x2 draw.
Regardless of the outcome, the whole world noticed that Cristiano Ronaldo, the Portuguese team captain, presented an interesting hair cut with a zig-zag shaved in the right side of his head. Also, it circulated on the internet that the zig-zag was his way to pay tribute to a 10 month-old baby boy, Erik Ortiz Cruz.
Erik has a rare type of epilepsy and suffers from more than 30 seizures per day. He requires a delicate brain surgery. Erik's family lives in Spain and are fans of Real Madrid, where Cristiano Ronaldo plays as the team's main star. The family contacted the player's representatives asking only for a shirt. The piece would be auctioned as a fundraiser for Erik's brain surgery.
When Cristiano learned that the family could not afford the surgery and was holding events and fundraisers, he stepped in and offered to pay part of the hospital costs, around £ 50.240, almost $ 68,244.00.
On the boy's Facebook page, the mother said Erik is still preparing for surgery. The haircut and the zig-zag on Cristiano's head correspond to the same side of the head Erik will have a scar after surgery.