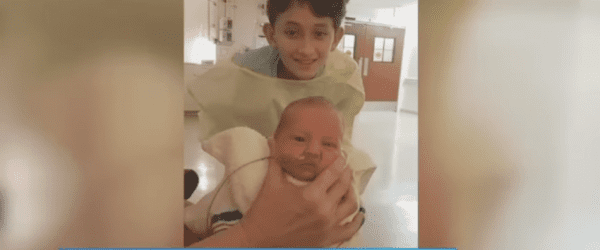 No matter how many children you have, every pregnancy and labor is completely different. Even if you think you know what to expect, you're always in for a surprise.
Ashley Moreau was eight months pregnant with her third child when she woke up late one night to use the restroom, thinking she had another month left of pregnancy.
But she was already in labor, and she didn't even realize it
She was in the bathroom when her water broke, and when she looked down, she saw her unborn son's legs sticking out of her.
Her fiancé was working nights, so the only person she could call for help was her 10-year-old son, Jayden Fontenot.
Jayden ran next door to get his grandmother, who called 911. Unfortunately, she had recently undergone a surgery, so was unable to help her daughter with her breached baby.
Jayden raced back to the bathroom to find his mother bleeding out on the floor.
"I said to him, 'You're going to have to deliver your brother, and we have to do it fast because the baby's feet are turning blue and he can't breathe," Moreau said.
Her son stayed calm the entire time, which helped her stay calm
"He said, 'tell me what I need to do and I'll do it,'" Moreau said. "I could see he was scared, but he knew he had to do it."
Fontenot gently pulled his baby brother's legs while his mother pushed. When he was born, he wasn't breathing.
The ten-year-old knew exactly what to do. He ran to the kitchen and grabbed a nasal aspirator to clear his new brother's nose and pump air into his mouth.
"I wasn't even thinking, I was just amazed," Fontenot said. "I didn't know what was going on."
Shortly after, paramedics arrived at the scene and transferred the mother and new baby to a local hospital.
Doctors say it was Fontenot's quick thinking that saved his mother and brother's lives
"Every time I think about it, I just cry," his mother said. "I don't think Jayden understands what he's done and how big it is."
The new baby, named Daxx, spent a week in the NICU, but was able to return home to his family completely healthy.
Fontenot was hailed a hero by the mayor and first responders in their city of Sulphur Louisiana.
The Chief of Police, Lewis Coats, even gave him a certificate to be the chief for a day, whenever he wants.
Then, the mayor took it a step further and gave him a key to the city
"It's a special thing, heroes in our eyes, get the biggest honor the City of Sulphur can do, and we have a big key to give him today," Mayor Duncan said.
Jayden's parents said things at home haven't changed much, but they can never forget what he did that night.
"I am so proud of him," Moreau said. "He is brave, he is strong, he is my hero. I'm just so proud of him. He saved me and his brother's life."
This just shows that heroes come in all shapes and sizes. It was a good thing Morea had such a brave son to help her through such a scary time.