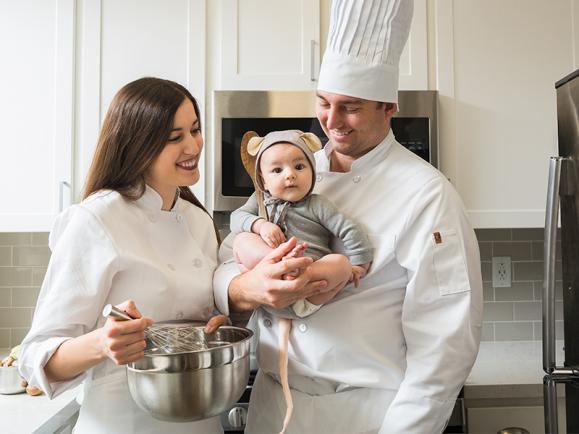 This is your year. Previous years you've sighed from disappointment after what seemed like weeks of trying to convince your family to get on board with a family themed costume. But this year is going to be a whole lot different. This year you've had the chance to look at some of the most epic family costume ideas and it won't be hard to convince anyone in your household that they need to participate. In fact, everyone is going to be eager to participate because the ideas you present to them are going to be that good.
So, whether your family wants to go for a more traditional theme or keep things modern,  check out some of the most epic costume ideas your family is guaranteed to love. The photos you'll capture from these ideas will be priceless.
Family Shark 'Do-Do-Do-Do-Do-Do-Do'
What better way to keep up with current trends than to recreate this viral nursery rhyme with the whole family! Mommy shark, Daddy shark, baby or baby sharks, even the grandparents can join in! Amazon makes this costume super easy to get and affordable by selling cute shark costumes for the whole family.
Black Panther
Wakanda forever! The whole family can indulge in the Marvel phenomenon by dressing up as the characters from the movie. Warning, this idea may cause a slight war at home when it comes to deciding who gets to be what, but nevertheless, this costume idea will always be a fan favorite.
Grease Lightening
Show off your family's theatrical talents by dressing up as the classic Sandy, Rizzo, and Danny from Grease. The whole family can get decked out in the perfect '50s styled Grease costumes, and depending on how big your family is, you'll even be able to have your possies of Pink Ladies and T-birds. The look itself can be simply achieved by throwing in high ponytails, shades, and of course, extra gel for the guys.
A Herd of Unicorns
You may have noticed how widely popular everything unicorn has been, especially if you have younger girls in your home, but now is your time to make their unicorn dreams come true by dressing your family as a herd of unicorns. This may take some convincing for the boys of the house, but everyone can create their own unique unicorn costume using unicorn onesies. There are onesies for men, women, and an extra sparkly one for girls. Pair your costumes with funky rainbow-colored wigs, and your look will be complete.
Wizard of Oz
This family costume idea is perfect for larger families and can be created by incorporating clothes your family most likely already has. All you'll need to do is add the classic touches to each costume, like maybe creating the ruby red shoes using red glitter and glue or using a straw for the scarecrow's body.
Jurassic Park
This movie makes for a great family costume idea, which again can also be created using clothing you already have at home. Dress up as Dr. Alan Grant and Ellie Sattler, and if there's a baby in the bunch, dressing them up as a dinosaur adds the cutest touch to the overall theme.
'The Nightmare Before Christmas' Characters
This theme is fitting for the occasion, and for a family that enjoys Halloween just as much as they enjoy Christmas, it's an epic choice! Costumes for the whole family can be found here, or if you're feeling crafty, the character looks can easily be recreated in a DIY project.
Nintendo Family
The gamers of the house will love this costume idea, and because of the limitless amount of characters, everyone will be able to choose their own perfect Mario-cart character costume. A guide on how to achieve this family costume idea can be found here.
Guardians of the Galaxy
Show the world how ready your family is to protect the universe by dressing up as Guardian of the Galaxy characters. Check out how simple these looks can be created at Sugar Bee Craft.
Mail Delivery Drivers
How timely is a costume showing your family's appreciation for all the handworkers at Amazon, UPS, and FedEx? A super cute and fun costume that can easily be crafted.
Napoleon Dynamite
If your family enjoys this movie just as much as they enjoy tater tot casserole, then it's only right that you partake in this family costume idea. It won't take much to create your own rendition of the hilarious film characters, and it'll make for great Facebook pictures.
Planning out your family costumes should be a fun experience for everyone, and there are tons of family costume ideas online that are sure to make everyone proud to wear on Halloween.